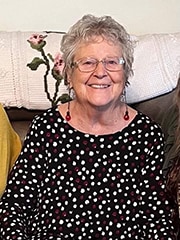 Dorothy Prohl, 85, of Carrollton, died Oct. 24, 2023
She was born in Carrollton Sept. 2, 1938, to Burleigh Yost and Hazel Easterday. For years, she worked as a title clerk at Guess Motors while actively participating at her church, Living Waters Fellowship. Dorothy was a pillar of the community and was known for her generous nature towards everyone. Even to the very end, she brought joy with her smiles and kindness to those around her.
Dorothy had two great loves in this world – people and Jesus. She led a life of service reflecting her deep faith and compassionate nature. Dorothy was gifted at remembering birthdays and talented at making people feel special.
She was preceded in death by her husband, Bruce Prohl. She is survived by four daughters: Dari Sabatino, Lori Winter, Dori Power and Virginia Prohl; as well as 12 grandchildren and 11 great-grandchildren.
A Celebration of Life is planned Nov. 3 from 3 p.m. to 6 p.m. with a meal following at Church of Christ, 353 Moody Ave. SW, Carrollton.
Sign up for our Newsletter
Interested in a monthl roundup of stories? Enter your email to be added to our mailing list.