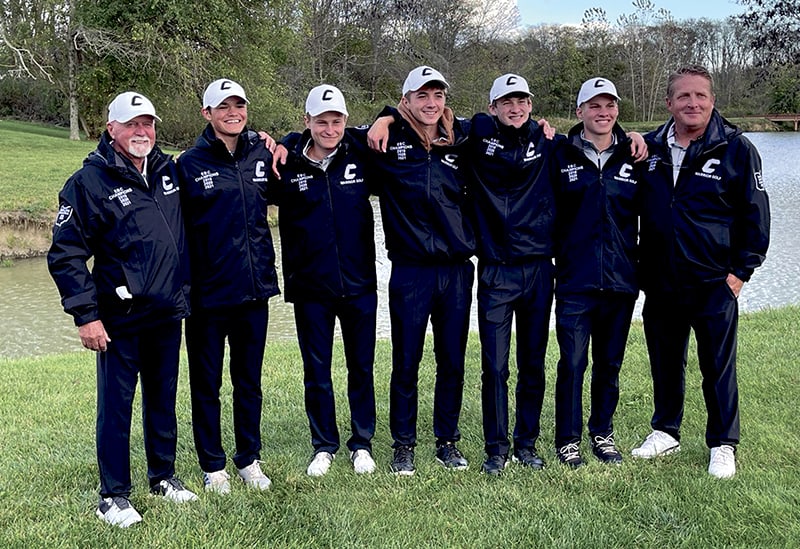 By Carol McIntire
Editor
Carrollton broke away from a three-way, third-place tie on the second day of the Division II boys state golf tournament and claimed sole possession of the spot when the results were announced late Saturday afternoon, Oct. 16.
Gahanna Columbus Academy won the championship title with a two-day score of 611. Kettering Archbishop Alter finished as the runner up with 614, followed by Carrollton. The Warriors shot 334 Friday and put together a solid round of 323 Saturday for a total gross of 657.
Carrollton Head Coach Chris Barto and Assistant Gary Cogan prepared the team well for the tournament, its second appearance in two years, which was played at NorthStar Golf Course in Sunbury.
"We played a practice round there earlier in the season and played in a tournament as well. We knew that Northstar was hosting the state tournament this year and wanted to have the team play as many rounds there as possible," Barto said.
He said being familiar with the course was a plus for his team.
"The team played really well on Friday, despite the pressure of performing at the biggest high school event. Each player has grown from last year and we felt they were really prepared to play their best. They are very competitive with each other and competitive as a team and expect to play well," he said.
They also used the time leading up the tournament to keep the game fun.
"In the weeks leading up to the tournament, we scheduled matches with past alumni and some of our senior golfers at Carroll Meadows. The boys enjoyed playing with them and it kept things fun while we waited for the tournament," Barto said.
Barto's past experience was also a benefit for his team.
In 2017, he coached his son Christian, the first Carrollton golfer to qualify for the state tournament.
"We learned a lot from that experience," Barto said. "Christian has actually made it to many practice sessions with these boys and played with them. I think that helped them see that they could also make it to that level. He also played his state rounds at Northstar, which was very beneficial for us to ask questions about the course."
Sandy Valley's Connor Ritter won the individual championship. The senior, making his third appearance at the state event, shot a 3-under par 69 Friday and 4-over 76 Saturday for a two-day total of 145.
John Birong led Carrollton the first day with a round of 78. He added an 80 Saturday to finish in 16th with a total gross of 158, Jaxon Rinkes, tied for 19th with rounds of 82 and 81 for a 163. Colton Moore shot an 85 the first day and led the team with a 79 Saturday for a total of 165 and a tie for 22nd. Cayden Rininger tied for 43rd with rounds of 89 and 83 for a 172 and Micah Barkan put together rounds of 90 and 101 for a 191. The top four scores were used to compile team scores.
"Colton has played really well this season and we were expecting him to shoot a good round. He had a couple of bad holes starting out, but when I asked him how he was doing, he was in a great frame of mind. He said he was fine and went on to play well," Barto said, adding, "Golf can be a mental battle when you get to a high level. We try to teach the boys to move on from a bad shot or hole but learn from the mistake."
The team, comprised of all juniors, finished the 2021 season undefeated, won the Eastern Buckeye Conference championship, the school's first outright sectional championship and the first district championship in school history.
It was the second consecutive undefeated season and EBC title for the Warriors.
Barto sees a bright future for the Warrior golf program.
"We have tried to improve our program every year for many years," he said. "We started a Jr. league on Fridays for 3rd through 6th graders to introduce the game and hopefully plant those seeds for the future. We also encourage the boys to play as many summer tournaments as possible. In addition, we travel to many of the courses we play during the regular season for practice rounds.
The coach also gave credit for the team's success to the parents and school administration.
"Our parents are a big part of the success as well. They provide anything we need and help out with many aspects to make the season possible and successful. The administration at Carrollton is great to work with as well. As long as our requests are reasonable, they will go out of their way to help," he said.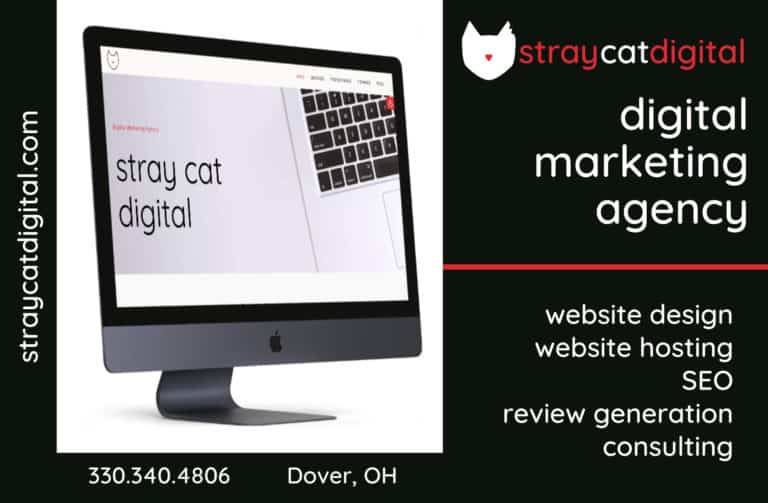 Sign up for our Newsletter
Interested in a monthl roundup of stories? Enter your email to be added to our mailing list.