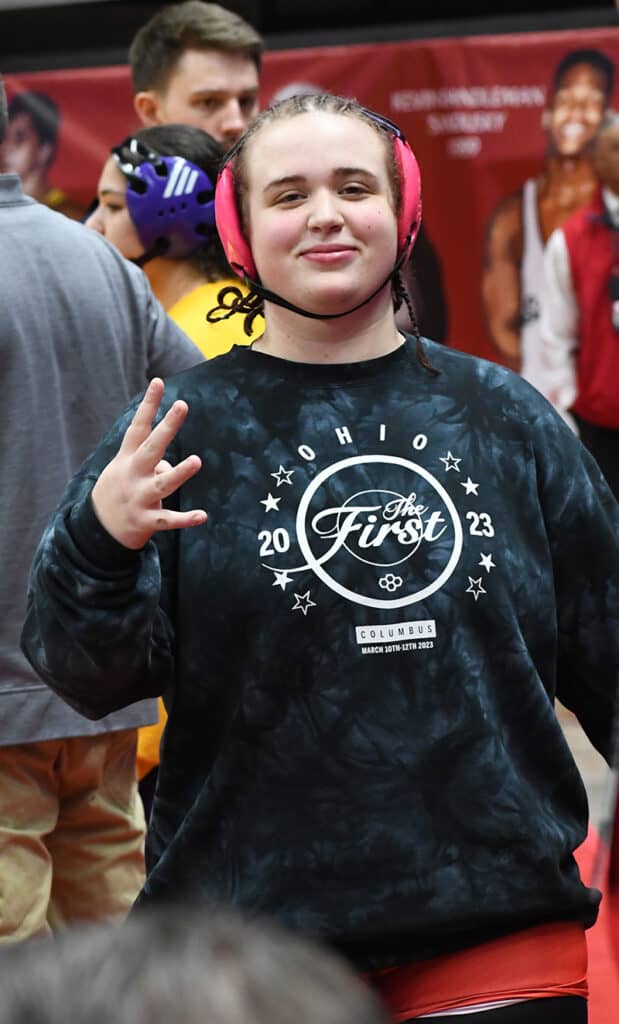 By Carol McIntire
Editor
Minerva senior Alaina Jackson capped off her high school wrestling career with a fourth state championship at the inaugural Ohio High School Athletic Association (OHSAA) girls wrestling state championship March 10-12 in the Jerome Schottenstein Center.
Jackson won three Ohio High School Wresting Coaches Association (OHSWCA) championships and garnered her fourth (and first in OHSAA-sanctioned competition) in front of a packed house in Columbus Sunday night.
OHSAA sanctioned the sport of girls wrestling for the 2022 -23 season and welcomed the girls to compete alongside the boys at the state tournament.
The undefeated 235-lb. champion (26-0) indicated her intentions prior to her second-round match Saturday morning by raising four fingers as she was captured through the lens of a Messenger camera while on deck.
Jackson followed through with her predication and pinned her way through the championship bracket. She put Alexis Cowan of West Union on her back in 17 seconds, Evie Parmelee of Liberty Benton in 50 seconds, and earned a spot in the championship match with a fall over Jessica Edwards of Harrison in 1:43. She won the title with a pin (1:25) over Washington freshman Brooklyn Wade. Wade also pinned all her opponents on the way to the title bout to set the stage for an exciting finish.
Minerva senior Kaiden Haines placed third and Malvern sophomore Tyson Clear fourth, while Carrollton junior Josh Carman snared a fifth-place podium spot and junior Landon Jenkins placed sixth. Minerva Lady Lion Jada Shafer, as senior, placed fifth and Lion sophomore Hunter Dietrich stood in the eighth-place spot on the podium.
Haines, who placed sixth last year, won the first two matches over Ben DiMario of Kenston (9-4) and Collin Willet of Bloom-Carroll (pin 4:39) before dropping a 9-3 decision to Max Ray of Columbian in the quarter finals. In the consolation bracket, he advanced by defeating Hunter Hutchison of Madison Comprehensive (3-1) to face Austin Kovar for third place. Haines earned a 9-3 decision over the Wauseon junior.
Clear, a first-time state qualifier, won his opening match over Aiden Helmke of Tinora before dropping a 20-9 major decision to Ethan Cooper of Legacy Christian and moving to the consolation bracket. Once there Clear climbed the ladder by winning matches over Tristan McKibben of Rootstown (4-2), Caylan LeMaster of Centerburg (57-second pin) and Ayden King of Barnesville (5-3) to earn a right to wrestle for third place. In the Sunday match for third place, Clear was pinned by Ethan Cooper of Legacy Christian in 54 seconds.
"It was a lot of fun being at the state tournament," Clear said of the experience. "I thought I wrestled really well."
The path through the consolation bracket pitted Clear against Ayden King of Barnesville, who defeated Clear twice this year.
"He beat me in a regular season dual 9-4 and beat me 8-2 in the district finals. We kind of came at him with a game plan and we ended up winning by three. It was an exciting match," the Division III wrestler said.
For Wilson, it was his first state placer in his five-year coaching career.
"He's the third state placer in school history," Wilson noted. "It was special with Tyson. He works so hard and put in the time he needs to get there. He peaked at just the right time this season. He deserves it."
Carman advanced to the semifinal round with wins over Gage Murphy of Reading (11-0 major decision) and C. J. Fisher of Clyde (8-5). He faced defending state champion David McClelland from Columbus DeSales in the semifinal match. Carman scored the first two points of the match with a takedown followed by a McClelland escape and takedown to lead 3-2 after the first period. McClelland earned a reversal and Carman an escape in the second period to set the stage for an exciting third period. Carman earned a reversal to tie the score with 40 seconds and, when it appeared the match was headed for overtime, McClelland earned a reversal with less than 10 seconds on the clock for the 7-5 win. McClelland went on to win the state title.
Carman, a three-time state placer, fell to Coltyn Ready of Sheridan 3-1 in the consolation bracket and posted a 7-2 decision over Thane McCoy of Wilmington to place fifth.
"There has only been one four-time state placer in Carrollton history and my goal is to match that," Carman said. "I look up to Benny Pasiuk and he's the man to do it. "Getting in the top six this year is big. I've got one more year next year. It means a lot to represent Carrollton."
Jenkins, a two-time state qualifier kicked off the tournament with a 5-2 win over Jake Landis of Graham Local and then fell by a 13-3 major decision to Javaan Yarbrough of Copley, the eventual state champion. He moved to the consolation bracket where he picked up a 7-0 win over Owen Nelson of Cuyahoga Valley Christian Academy and posted a 4-2 decision over Zavian LaFountain of Wauseon before falling 2-0 to Blake Bartos of Buckeye. The junior lost the battle for fifth place to Aiden Ohi of Ontario 2-0.
"I was kind of nervous going into the blood round (match a wrestler must win or be eliminated from the tournament)," Jenkins said after receiving his first state medal. "I didn't want to let down the people who care about me and who have helped me. When I won that match, it got the pressure off me. For me, it was good to win the first match and get some momentum."
When asked how it felt to stand on the podium and receive a state medal, Jenkins replied, "It felt like all the hard work paid off and let me know I need to keep working."
Carrollton Coach Joe McGee was pleased with the effort of his state placers.
They are great kids to work with," he said. "They work hard, are respectful and are team players. Josh and Landon have worked since first grade to get where they are today."
McGee pointed to the opening match for Jenkins as a pivotal in his tournament run.
"Getting that win over Jake Landis of Graham Local set the tone for the tournament," he said.
As for Carman, McKee pointed to the match against McClelland.
"That was a tough match that easily could have gone the other way," he said. "We feel it could have been Josh out there in the title match instead of McClelland."
Lady Lion senior Jada Shafer (130 lbs.) lost a first round match by pin (1:24) to Cassia Zammit, a senior from Miamisburg. Once in the consolation bracket, Shafer worked her way through the bracket with wins over Marie Nina King, a sophomore from Columbus Academy (pin, 1:41), Emily Flynn, a sophomore from Hubbard (5-3 decision) and a pin (4:34) of Nevaeh Rockhold, a junior from Warren. She was pinned (4:52) by Kelcey Dew, a senior from Delaware Hayes (4:52) and wrestled for fifth place, losing by pin (2:38) to Emma Hanharan, a junior from Tippecanoe, to place sixth.
Other competitors included:
Carrollton
Kail Snair (113 lbs.) junior: Decisioned junior Jaden Gyan of Butler 6-3 in the opening round; fell to junior Alex Gonzales of Napoleon 4-2 in the championship quarterfinals and dropped to the consolation round where he forfeited the match to sophomore Travis Bucklew of Vinton County in the second period.
Levi Pidgeon (126 lbs.) junior: Dropped 9-5 decision to sophomore Tyler Scharrer of Canfield in the first round and moved to the consolation bracket where he decisioned Mike Thomas of Mansfield Madison Comprehensive 6-0 and then exited the tournament with a 2-1 loss to junior Adam Heckman of Howland.
Ben Zinda (190 lbs.) senior: dropped an 11-4 decision to senior Trent Thomas of Bedford and was eliminated from action when he was pinned by Wilmington senior Joshua Snell in the consolation round.
Malvern
Xavier Watson (175 lbs.) senior: Fell 7-5 to Salineville Southern senior Wyatt Morris and moved to the consolation bracket where he dropped an 8-1 decision to Ayersville senior Owen Berner.
Zach Babiczuk (215 lbs.) junior: Suffered an 8-3 decision at the hands of South Range senior Christopher Colucci and moved to the consolation bracket where he was pinned by Brookville senior Bronson Stacy.
Minerva
Connor Norris (120 lbs.): Lost 6-4 decision to senior Larry Moreno of Wauseon and moved to the consolation bracket where he suffered a 17-1 technical fall to Anthony Perez of Streetsboro and was eliminated.
Andrew Strader (126 lbs.) senior: Fell to Louisville junior Kolton Barker by 11-0 major decision and dropped to the consolation round where he exited the tournament after a 3-1 sudden victory loss to Cade O'Banion of Tecumseh.
Girls:
Minerva's Bridget Hilliard (105 lbs.) sophomore: Earned a 44-second pin over Gibsonburg senior Brianna Montgomery in the first found, fell by pin to Harrison junior Chloe Dearwester in 1:20 and dropped to the consolation bracket. She was eliminated when West Union junior Scotlyn Adams recorded a 57-second pin.
Lion Sarah Sphon (115 lbs.) sophomore: Lost by fall (2:28) to Miami East sophomore Kira Cole in the opening round and was eliminated when she fell 4-1 to Olentangy Orange junior Josie Nickoloff in the first round of consolation matches.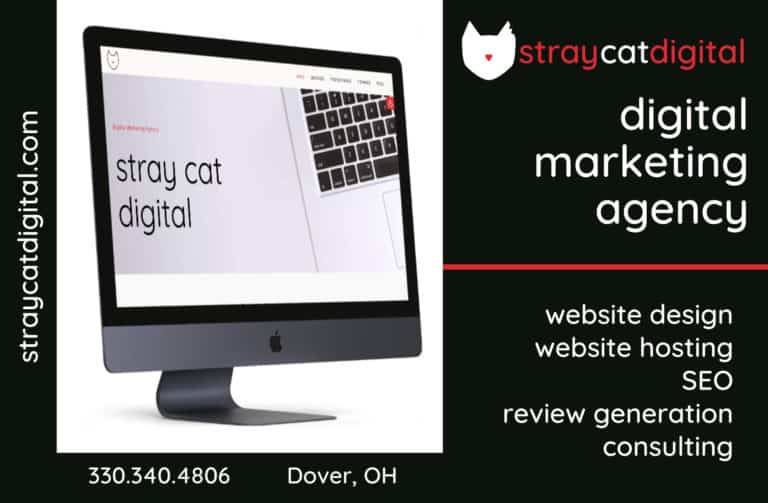 Sign up for our Newsletter
Interested in a monthl roundup of stories? Enter your email to be added to our mailing list.