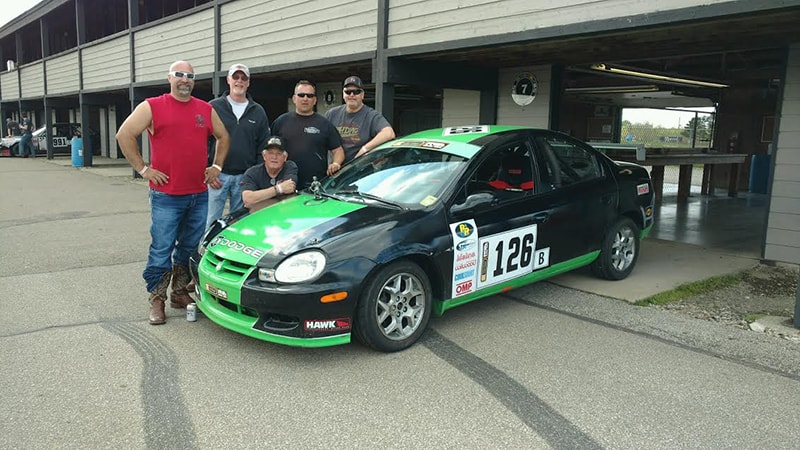 Leigh Ann Rutledge,  CCM Associate Editor
Just like Maverick and Goose in "Top Gun", Sean Hinkle wants to go Mach 1.
Hinkle, of near Dellroy, will have an opportunity when he straps himself in a 1995 Ford Mustang Aug. 1 at Nelson Ledges Road Course in Garrettsville.
He will participate in sprint races at the Sports Car Club of America (SCCA) Regional Race. The two-mile paved course has seven major turns he'll navigate in an attemptto take the checkered flag.
"I was born with the need for speed and nerves of steel," Hinkle explained as we sat in his friend's garage overlooking Atwood Lake. "I like to go fast and I like the adrenaline rush."
From jumping mini-bikes to racing dirt bikes at 10 years old, little did he know the "need for speed" would also set him on a career path. His first race bike was a "basket case", a bike that was torn apart and he had to put together. Ripping around on a Suzuki in hare scrambles through the woods, things began to break. Repairing the bike was Hinkle's introduction to being a mechanic and realizing he "was good at turning wrenches".
Growing up in Dellroy, everyone had a derby car. Hinkle acquired his first one at 20, a 1985 Buick Riviera.
"Brad Lippincott used to let everyone build their derby cars in his garage," Hinkle said. "We'd all help each other. I turned wrenches. Rick Lewton painted. Then we displayed them all in his (Lippincott's) front yard." It was easy and cheap to compete at that time. The windows were removed and doors wired shut and the rules were simple. He competed at this level for a few years then got into the more modern derby competition, learning where to weld to make the cars last. His first win was with a 1976 Chevy Caprice Wagon at Dover Fair.
"It was the ugliest car (when he purchased it), it ran a few derbies and smashed up," he explained. "It had a cracked head and was blowing water out the stacks."
Hinkle switched to building Jeeps – CJ and Waggoneers. He mudded with these for a few years before switching to tractor pulling.
His driving and mechanical skills now include bikes, vehicles, tractors and fork lifts.
Endurance Racing
Five years ago, a co-worker, Denny Barton, was explaining to Hinkle about endurance racing. In endurance racing, a driver can only be in the driver's seat for two hours, then must be trackside for at least an hour before getting back in the seat. Usually each race car has a four-man team who drive and work pit crew. Drivers must wear a fire suit and shoes, gloves, etc., a helmet and other safety equipment.
Prior to the conversation with Barton, Hinkle and Nate Aguredakes of Malvern, were well known on the tractor pulling circuit, sharing seat time on an International (IH) 1466 Limited Pro called "Hard 2 Handle". The 1466 was very basic when they purchased it, with not much power. After blowing head gaskets and turbos the first few times off the line, they finally got it hooked up. For nearly 15 years, the two took turns strapped in the driver's seat of the IH 1466 putting 1,500 horsepower to the ground and traveling 30 miles per hour heading for the 300-foot finish line.
Hinkle told Barton he had a fire suit and all the safety gear, and if he needed a back-up driver he'd be interested. Two months later, Barton asked Hinkle if he was serious. "I told him I was serious, but knew nothing about road racing," Hinkle stated.
Barton told him no experience was necessary and to be at Michigan International Speedway in three weeks. (The infield at a majority of NASCAR tracks is set up as a road course.) Hinkle had never been on a racetrack or in a race car and there was no practice session. Endurance races can be split, seven hours on Saturday, followed by eight hours of racing on Sunday, or they can be up to a 24-hour race.
"Two hours wide open on the track is exhausting," Hinkle said. "You want to be as fast as you can, yet save the car to make it to the end of the race."
Hinkle drove a 1995 Honda Civic with a 1.5-liter engine, a full NASCAR cage and a fire suppression system in the race at Michigan. He was one of 60 racers.
"I just stayed out of everyone's way. The car had no power," Hinkle stated. "Five laps in, the engine blew."
The bad news was the engine blew up. The good news was he was hooked and, eventually he became the lead mechanic for the team. They also put a 2-liter engine in the car which was considerably faster, but they tore up transmissions.
Along with Sean, the team consisted of Barton and Larry Ray, who holds a pro license, both from Uniontown. A fourth man joined the team, Aguredakes. He was in the process of building a car to road race at Nelson Ledges when he switched gears and began tractor pulling.
Hinkle raced in the "Roval" (infield) at Charlotte Motor Speedway in North Carolina. Drivers begin in turn one and run the course coming out on the other side. Drivers have the opportunity to run the entire track.
"You hit turn four at 130 mph and the banking, you can't understand it until you've been on the track," said Hinkle, who prefers to run in the middle. "It's nerve wracking to see the wall in a 'pop can'."
At Charlotte, a special CV joint, which connects the transmission to the drive tire, broke around lap 70. "We got to have a little bit of fun," Hinkle added. He ran the Civic for 2-2 ½ years and had some top five finishes, but never won. They competed at the NASCAR Watkins Glens International racetrack in New York against 90 other cars. Hinkle said it was fun to be able to get to experience the famed track.
Hinkle purchased a 2001 Dodge Neon ACR from teammate Ray. The car was built as a race car and just needed the safety equipment updated and a new engine. Hinkle built a new engine and, when they went to Pittsburgh International to race, Ray was unable to participate. Hinkle asked Rich Jones of Carrollton, who is a pro driver, to race in Ray's place. The car made it through the entire race, placing 15th out of 60+ cars. The Dodge Neon handled better and didn't seem to tear up as much, Hinkle noted.
The original four-team members took the car to Mid-Ohio Sports Car Course, where they won their class (classes are separated by cubic inch). They didn't win the overall, but they won their first race. "It felt good," Hinkle said.
24-hour Race
Hinkle raced on Jeff Clapper's team. Clapper of Kent had a 1989 Chevy Beretta that was well set up. He took it to a wind tunnel and did upgrades. They were going to compete in a 24-hour non-stop race at the iconic Nelson Ledges Race Track.
"It was the first time I ever raced at night. There were no track lights just the car headlights," Hinkle stated. "The back straight away was a swamp area and the fog was coming in. It was interesting at 135 mph."
They had some mechanical failures and did not place, but did finish the race.
"It was a lot of fun, but grueling," Hinkle explained. "You want to fall asleep, but you can't and it had to be the hottest day of summer."
The Next Step
After a brief time away from the track, Hinkle found a 1988 BMW in Syracuse, NY, that was caged, but had been in an accident. He got together with Aguredakes and Jones and purchased the car. The BMW needed a lot of work. They began by having the late Earl Riegle "work his magic" and straighten the frame. Hinkle spent two weeks working with a four-inch grinder with a wire wheel stripping undercoating, seam sealer and weather stripping.
Then Jones offered Hinkle the option to use one of his older race cars " to have some fun while trying to get the BMW together." The '95 Mustang sat in Jones' garage for six years. It had been very competitive and won numerous races. Jones went on to race GrandAm (which is now IMSA) and then TransAm. The Mustang was too dated for those series.
One stipulation to race the car was that Hinkle had to go to SCCA school and get his racing license.
Hinkle trailered the Mustang to Michigan for school. Classroom instruction dealt with what different flags mean, proper passing, etc. The driving portion had Hinkle on the track and instructors giving direction on how to take turns, different corner grades and hit apexes correctly.
Hinkle explained he hadn't driven the car before and it sat for six years and he was going to take it easy. He was in the American Sedan V8 group and realized he had a lot to learn because he had never driven a V8 on the track. Hinkle said he took it easy for about three-quarters of the day, staying in the back of the pack so he could learn the car.
It didn't take him long to get acclimated to the car. Once he felt comfortable, he let go and laid down a time just a few seconds off the track record.
"The instructor told me I did a really good job and wanted to know where the last lap came from because it was a very fast and competitive lap," Hinkle said. "I passed. I missed one flag, but got an A+ on the other aspects."
Hinkle has to compete in three races without incident and he will earn his full competition license. He would then be able to travel nationally to race and could turn pro.
As Hinkle prepares for a return to the track, he explained, "I want everyone to know they can do this. There are companies that teach you to drive."
One is the Canton-based AutoInterests.com, a driving school with various programs. The Road Course Acclimation program is for first-time road course drivers, giving them an opportunity to see what road course driving is about. Along with classroom work, the program teaches fundamental road course driving skills, etiquette and car preparation guidelines.
Champcar.org allows those interested in racing to join an "arrive and drive" team or build your own car to race. This gives participants a chance to see how an experienced race teamworks and the do's and don'ts of endurance racing. Participants show up with racing gear and go racing.
"Endurance racing is an affordable type of racing. Families can build a car and have fun," Hinkle said.
Reminiscing through bikes, derbies, mudding, tractor pulling and car racing, Sean said, "I would like to thank my family and friends and especially my very understanding wife for all the help and support. I definitely couldn't have done any of it without them."
With the BMW on the back burner, Hinkle plans to drive the JOMAC Mustang and hopes to talk Jones into returning to the driver's seat on a regular basis.
"It would be cool to have two JOMAC cars on the track at the same time," Hinkle said with a big smile.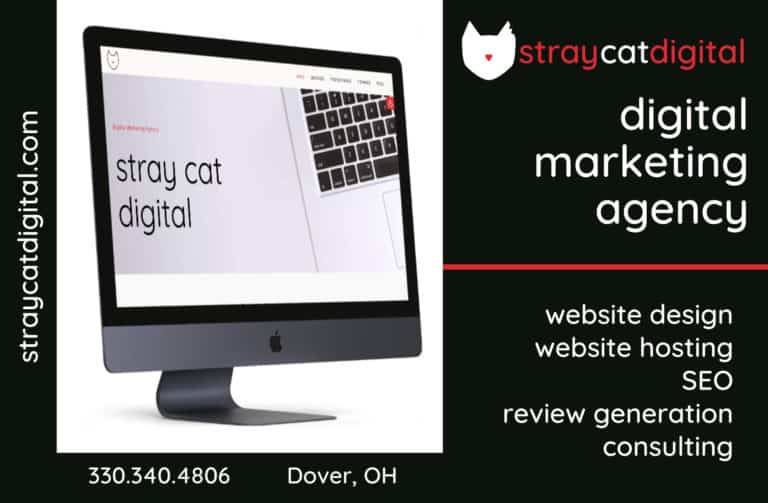 Sign up for our Newsletter
Interested in a monthl roundup of stories? Enter your email to be added to our mailing list.