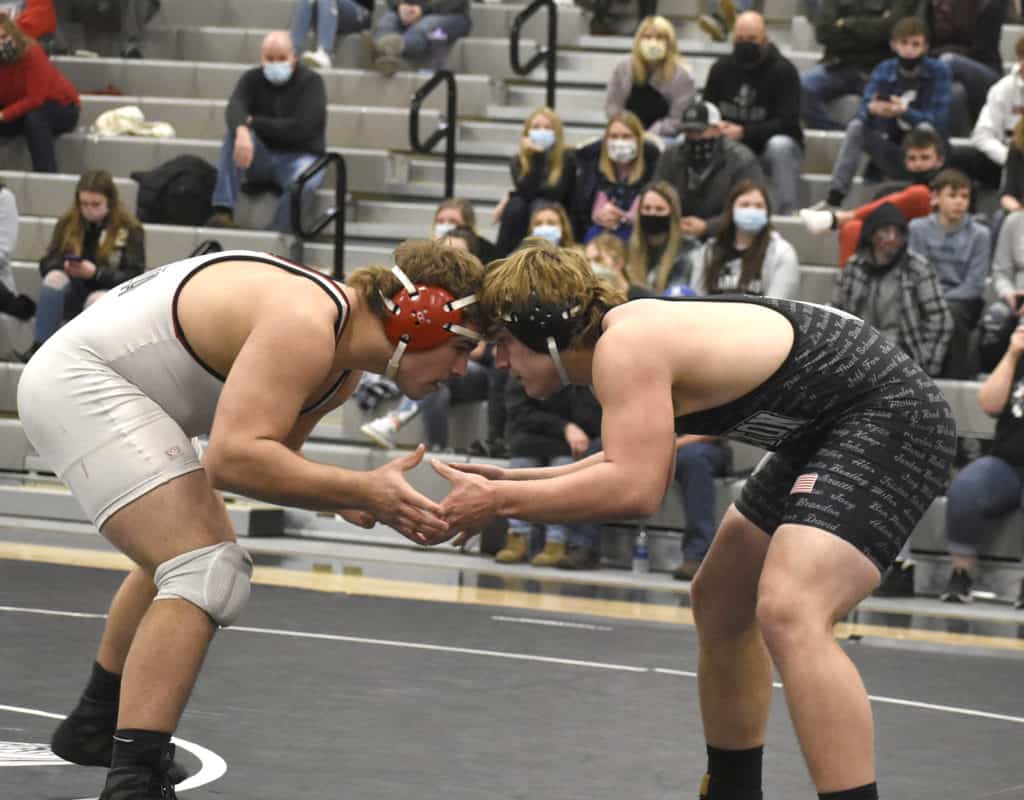 By Leigh Ann Rutledge
CCM Reporter
Like any Carrollton-Minerva athletic event, the Feb. 11 wrestling match between the two teams was filled with tension, cheers and a tinge of anticipation.
Both teams were undefeated when they met in the Carrollton gym for the last varsity match of regular season with the Eastern Buckeye Conference (EBC) championship on the line.
The Warriors took an early lead and led the majority of the match until the final two wrestlers took the mat.
Lion state qualifier Jarrett Burress (285 lbs.) pinned Cody Fritz in 28 seconds to put the Lions on top 35-31 and give his team their second EBC championship in two years.
The match began when Warrior Kolten Barker (106 lbs.) took control of his match against Connor Norris with a takedown in the first period. Barker pinned Norris in 3:53, giving the Warriors a 6-0 lead.
Josh Carman (113 lbs.) and Andy Strader faced off with Strader getting a takedown and two near fall points in the first period. Carman received a point for an illegal figure 4 on his head. Carman began the second period in down position and scored a reversal, trailing 4-3 going into the final period. Strader began the final period in down position. Strader was given a penalty point for an illegal slam from freshman Carman and one for an escape. Strader landed a takedown on Carman and three back points before time ran out. Strader won 11-3. The Warriors remained in the lead 6-4.
Freshman Warrior Levi Pidgeon and senior Lion Jacob Norris battled at 120 lbs. Norris was up 6-5 at the start of the final period in down position. With the crowd cheering loud, Norris scored a reversal, Pidgeon immediately scored a reversal and Norris another reversal before pinning Pidgeon with less than a half second remaining. The Lions led 10-6.
At 126 lbs. Ryan Kiko faced Ashtin McCrobie. Neither scored in the first period. Kiko earned two points on a reversal in the second period and won the match 2-0, bringing the Warriors to trailing by one, 10-9.
Gavin Rininger (132 lbs.) wrestled Lion Anthony Fletcher. Rininger scored a takedown in the first period and a takedown in the second period to lead 4-0 going into the final period. Fletcher received a point for a questionable stall call, which resulted in a coaches warning on the Warriors. Rininger began in down position and escaped to win 5-1 and give the Warriors a 12-10 lead.
Warrior senior Brandon Brown (138 lbs.) took down Sylas McClish and earned three back points before pinning McClish in 48 seconds.
Warrior Domanick Speelman (145 lbs.) made quick work of his time on the mat, pinning Brendan Mueller in 39 seconds. Carrollton led Minerva 24-10.
Freshman Brandon Carman (152 lbs.) faced Ashton Silverwood winning 9-3 and giving the Warriors a 27-10 lead.
At 160 lbs., Evan Lewis faced Lion Khail Louive. Louive scored a takedown and Lewis an escape in the first period. Lewis earned two points on a reversal and was awarded a stalling point, giving him a 5-2 lead heading into the final period. Lewis landed a takedown and was awarded two points for stalling. Lewis landed another takedown and Louive an escape before the buzzer. Lewis won by major decision, 12-3, to put the Warriors up 31-10.
Jaden Powell (170 lbs.) fought a tough battle against Nick Chaddock. Chaddock took an early lead, getting two takedowns in the first period. .Chaddock led 10-4 going into the final period and earned a 14-5 major decision.
The tide began to turn with the Lions building points, but trailing Carrollton 31-14.
Warrior Spencer Grindstaff and Lion Garrett Hilliard went head-to-head in the 182 lb. match. Hilliard took Grindstaff down and Grindstaff escaped to trail 2-1 at the end of the first. Grindstaff began the second period in down position and Hilliard earned two points for a near fall. Grindstaff escaped then Hilliard took him down again and earned three back points. Leading 9-2, Hilliard pinned Grindstaff in 4:12, giving the Lions six points. The Warriors remained in the lead 31-20.
Warrior Ben Zinda (195 lbs.) returned to the mat after several weeks on the injured reserve list. He faced Lion Kaiden Haines.
Zinda came out fighting, landing a takedown and two back points. Haines was awarded a point for Zinda's locked hands. Beginning the second period in down, Haines earned an escape and a takedown. Zinda earned an escape, but Haines earned two back points. Haines led 6-5 going into the final round and won 13-7, upping Minerva's score to 23 and Carrollton 31.
At 220 lbs., Nick Jones faced Logan Williams. Williams earned two back points before pinning Jones in 3:46. The Warriors were leading 31-29 going into the final match.
"It was a fun match to be a part of. We had some things go our way and some not," said Carrollton Head Coach Joe McGee. "We had some guys step it up and I'm proud of all of our guys. Once we get the road to state done…training for the league next year starts!"
The Warriors travel to Claymont Feb. 27 for sectional competition.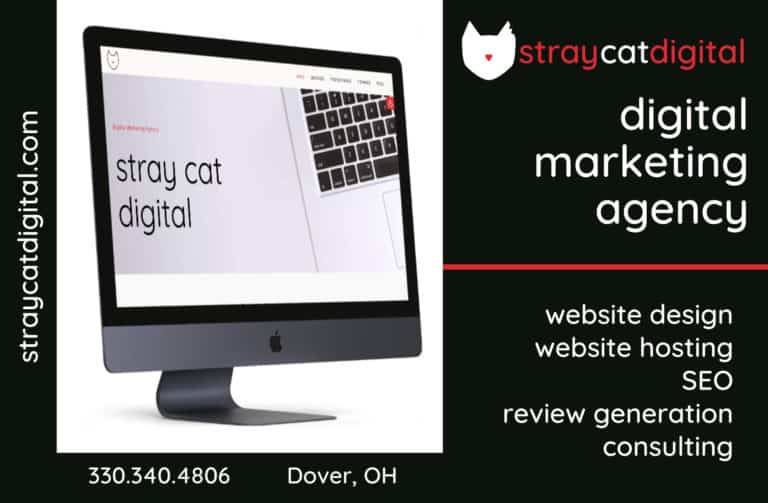 Sign up for our Newsletter
Interested in a monthl roundup of stories? Enter your email to be added to our mailing list.