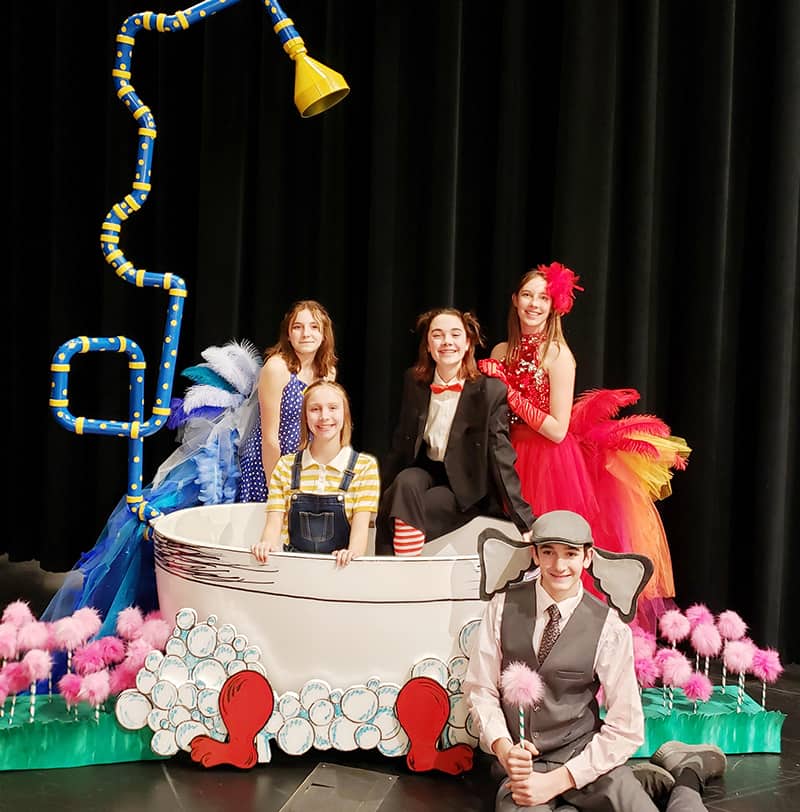 Oooh and oooh – "the Winningest Walloping Waltzing Whiz-zinger" is coming to Carrollton Feb. 24-26 at 7 p.m.
Seventy Carrollton students, all thinkers of strange and wonderful things, bring Dr. Seuss originals from the page to the stage with the production of "Seussical, JR."
From the jungle of Nool to Kalamazoo, students will unlock imaginations when they bring the Cat in the Hat, Horton the Elephant, Gertrude McFuzz, Mayzie La Bird, the Whos in Whoville, and other Dr. Seuss favorites to life with their production of Seussical JR. Co-conceived by Lynn Ahrens, Stephen Flaherty and Eric Idle, Seussical JR. combines Dr. Seuss tales (…and tails!) using the plinker-plunker of many musical styles – ranging from Latin to pop, swing to gospel, and R&B to funk – as colorful as the classic books.
"It takes a lot of creativity and focus to bring this whimsical world to life, while communicating its subtle themes and meaningful lessons," says Cohen. "MTI hopes their audience outnumbers all the Whos in Whoville," he adds. MTI, through its MTI's Broadway Junior™ division, works with the authors of classic musicals to create special editions suitable for students to perform.
"Now, I'm here, there is no telling what may ensue with a Cat such as me, and a Thinker like you!" says the Cat in the Hat, played by Carrollton Middle School student Railey Macke.
Seussical JR. begins with a young boy named JoJo (Isabella Nuzzolillo) who conjures up the Cat in the Hat (Macke) with her powerful imagination and is whisked to the Jungle of Nool for a fantastical adventure. There JoJo learns of the plight of the tiny citizens of Whoville, who live on a planet the size of a speck of dust. Their sole protector is Horton the Elephant (Logan Pridemore), who is the only one with large and sensitive enough ears to hear them bipping and beeping and playing their oompahs. The small world is threatened by Sour Kangaroo (Alexis Spears) and the Wickersham Brothers, who in disbelief that a world could be so small, try to steal the dust-speck so they can cast it into a vat of Beezle-Nut oil.
During all of this drama, Horton has not noticed that he has an admirer, Gertrude McFuzz (Summer Tromer). She blames his indifference on her one-feather short tail and endeavors to find a way to change her looks. Meanwhile, Horton's friend, Mayzie La Bird (Lily Marteney), is bored of perching on her nest, and convinces the watchful elephant to sit on her egg so she can take a vacation. The Cat follows all of these storylines and finally casts the girl into his own as the irresponsible daughter of Mr. and Mrs. Mayor of Whoville (Duval Citro and Samantha Bajornas), JoJo, who ultimately saves her whole tiny world with one big, imaginative "think."
Horton (Pridemore) will hear a Who and cheerful chaos will ensue at Carrollton Performing Arts Center, 205 Scio Rd., Carrollton. Along with a team of CHS student directors, the performances are directed and choreographed by Ron and Alzana Nuzzolillo, with vocal direction by Kevin Walters. Tickets are $5 and can be purchased from the Carrollton High Sschool main office or by calling 330-627-2134. For information or to purchase tickets, contact Alzana Nuzzolillo at the phone number above or email at alzana.nuzzolillo@carrolltonschools.org
Seussical JR. is presented through special arrangement with and all authorized materials are supplied by Music Theatre International 423 West 55th Street, New York, NY 10019 (212) 541-4684, mtishows. com.
Music Theatre International (MTI) is one of the world's leading theatrical licensing agencies, granting theatres from around the world the rights to perform the greatest selection of musicals from Broadway and beyond. MTI's Broadway Junior™ shows are 30 and 60-minute musicals for performance by elementary and middle school-aged performers, while MTI's School Editions are musicals annotated for performance by high school students.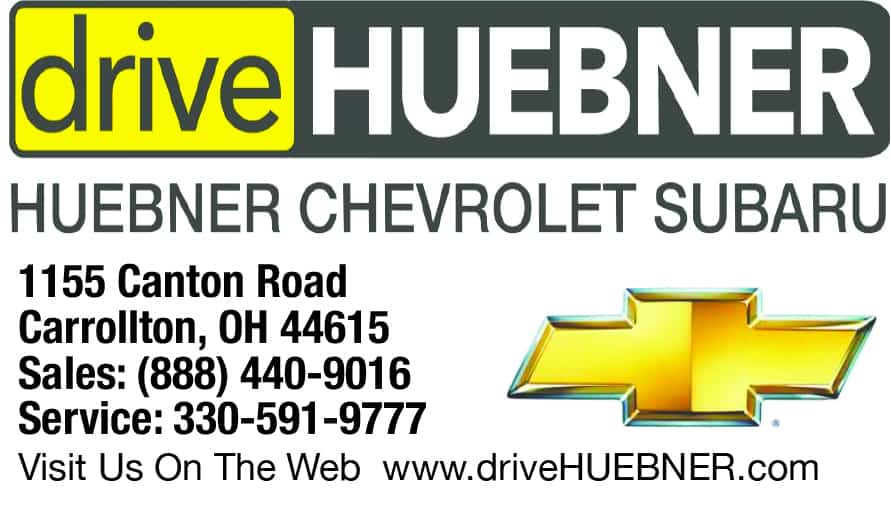 Sign up for our Newsletter
Interested in a monthl roundup of stories? Enter your email to be added to our mailing list.