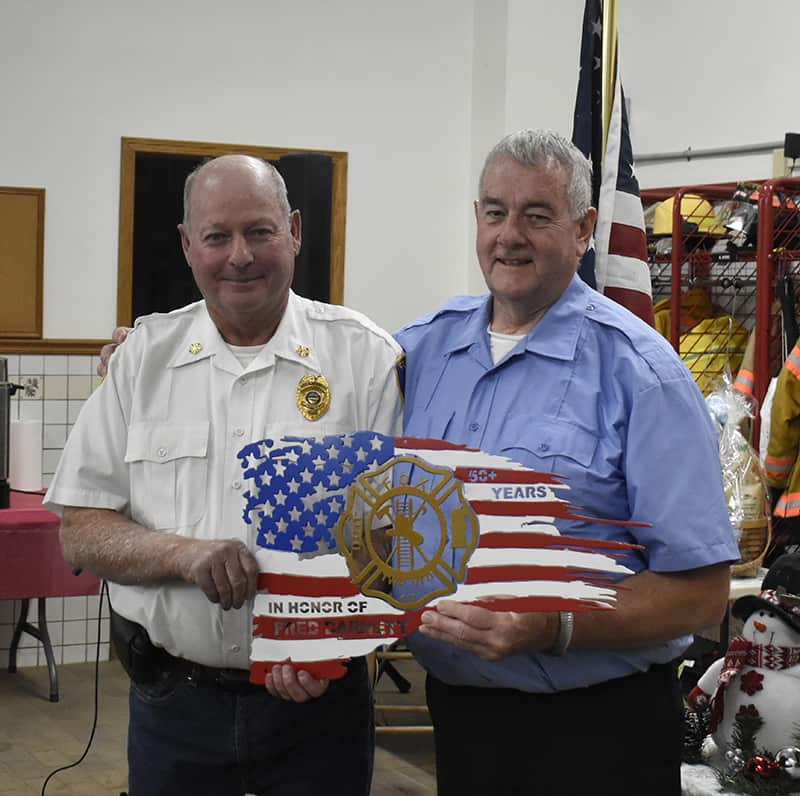 By Leigh Ann Rutledge
Associate Editor
Several lifelong Fox Twp. residents were honored during the Fox Twp. Fire Department annual meeting and dinner Dec. 4.
The Carlton brothers, Ron, Bruce and Rick, along with their wives, Judy, Cathy and Cathy, were recognized for their dedication and support of the fire department.
In a complete surprise, Fox Twp. Fire Chief Fred H. Barnett, Jr. was recognized for his 50+ years of fire service.
Barnett is a Vietnam War era veteran and joined the fire department in 1968. He began serving as the corporate secretary for the department in 1980 and a fire scene officer. He became assistant chief in 2007, and chief, a job he said he "loves", in 2009.
Barnett and fellow firefighter and former chief, Glenn George, Jr. received individual resolutions from the Ohio House of Representatives, presented by U.S. Congressman Douglas Applegate Aug. 19, 1990, for saving the life of Velma Wellon.
Wellon's home caught fire and upon arrival, firefighters found the east side of the second story of the home fully engulfed in flames. Barnett and George found Wellon unconscious with no vital signs in an upstairs bedroom. They dragged her onto the porch roof where Barnett administered CPR while George got a firehose and fought the fire threatening to engulf the porch. Wellon and George were in attendance to see Barnett receive his award.
During his time in the military, Barnett is credited with saving the life of a 10-year-old boy from drowning. Barnett saw him go under and went in to save him. Other servicemen passed the boy hand-to-hand to safety. Barnett received a medal of valor for his efforts. Barnett previously noted, he used skills he learned as a boy scout.
Barnett was named Firefighter of the Year by the Carroll County Fire Association in 2008. He is a 50-year member of American Legion Post 428 in Carrollton, a charter member of Great Divide Ruritan Club and a member of Corinth Presbyterian Church in Mechanicstown.
Barnett, humble as always, admitted he knew nothing about the honor.
"I want to thank everyone here and all who help us," Barnett said. "It takes all of us to keep this going."
The Carlton family's roots in Fox Twp. go back to the early 1830s when the Graham family (maternal side) came to America from Ireland.
Tearing up, Ron noted in a couple years they will have a two-century farm, adding "I'm really happy. There aren't many two-century farms in Ohio."
Earl and Marie resided in Cuyahoga Falls and would come to the farm. The Graham family did not know what to do with the farm after the boys left.
"One of the uncles consorted with my dad and they started planting Christmas trees," Ron said. "In 1960, they ended up buying the farm and that was the start of the Carltons owning the Graham farm."
Earl and Marie moved to the farm in the early 1970s after retiring. Earl and Marie would bring friends from Cuyahoga Falls to work two shifts (one day) in the food stand of the Mechanicstown Homecoming. This required 22 people.
"The Mechanicstown Homecoming was always an annual event we all enjoyed," Ron stated. "You got to see neighbors you didn't see every day. We've had a good time."
The Graham farm began as 100 acres and grew to almost 1,500 acres. Today, the Carlton Tree Farm business is tapering off, as the brothers have retired.
"The Fox Twp. fire department guys are heroes," Bruce added. "We are grateful to have them. The community is grateful to have them. Fox Twp. Fire Dept. is just the best."
During the business portion of the meeting, reports were given and officers noted the importance of assistance from everyone.
Secretary Harold Barber noted during events, the older group is working in the food stands and younger members are gathered in the corner, saying it does not reflect well on the department.
Speaking of the tractor pulls, which can be long hours, and are back-to-back days, JJ Brown told the group what keeps him going when he is tired and grouchy.
"I look at the people on the bank. Older people who go nowhere else," he said. "We've created a family affair and want to keep it that way."
Entertainment was provided by Keith Barnett.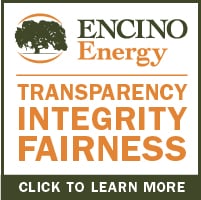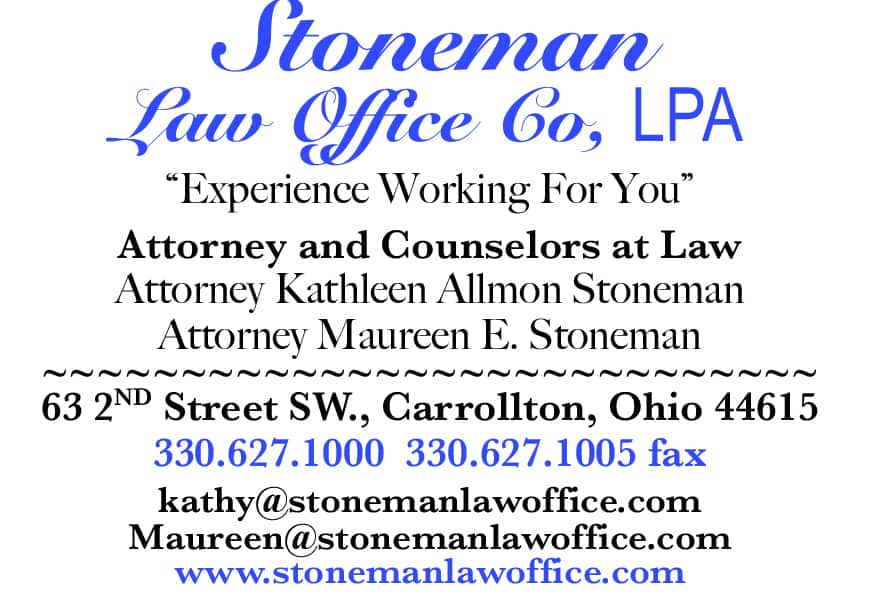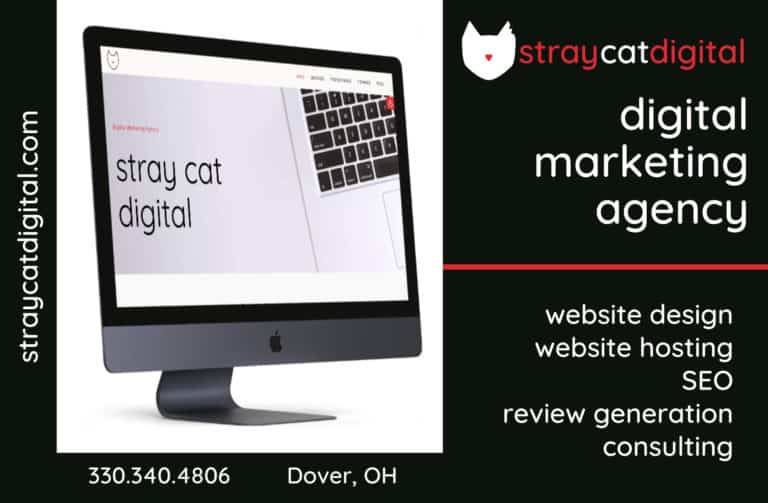 Sign up for our Newsletter
Interested in a monthl roundup of stories? Enter your email to be added to our mailing list.