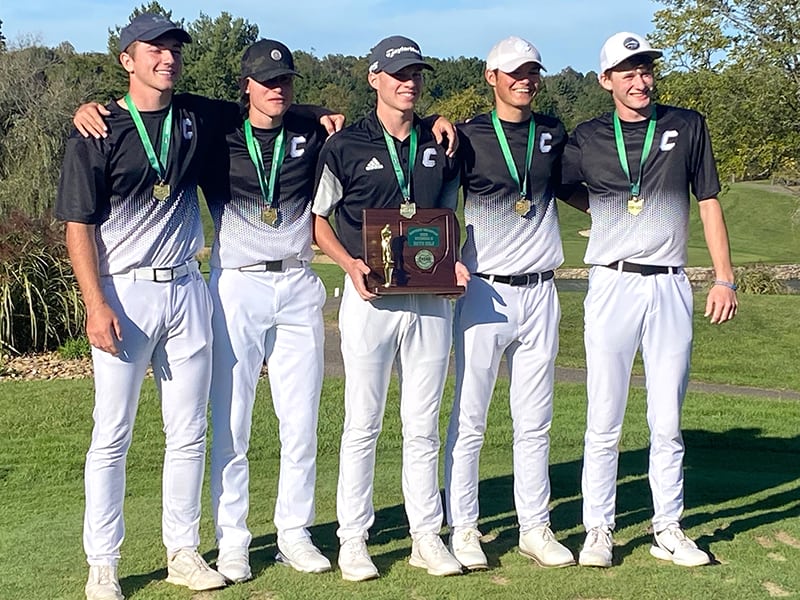 By Carol McIntire
Editor
A group of five Carrollton High School seniors closed out the most successful three-year run in the history of the school's golf program at the Division II state golf tournament Oct. 14 on The Ohio State University Scarlet course.
The Warriors placed third in the field of 12 teams.
It was the third consecutive appearance for the team, which placed third in 2021, and set the bar high for future Carrollton golf teams.
"This team has meant the world to the Carrollton golf program, said Coach Chris Barto following the final day of tournament. "They have established our program as one of the top programs in the state.  I believe in 15 years this team will be inducted in the CHS Athletic Hall of Fame as one of the best teams in CHS history.  The program did not have a state qualifier until Christian Barto accomplished the fete in 2017.  I believe that gave everyone in the program hope that we could actually get there."
Kettering Archbishop Alter won the state team title, their sixth, with a two-day score of 618. Gahanna Columbus Academy earned the runner-up title with a 634, 19 strokes ahead of Carrollton's 653.
Alter junior Davis Gochenour earned medalist honors with scores of 72 and 76 for a two-day total of 148 while his teammate, TJ Kreusch was the runner-up with scores of 77 and 73 for a 150. Jaxon Rinkes shot scores of 75 and 80 for a 155 and the fifth-place medal and first team All-Ohio honors.. Colton Moore finished his high school career with a 160 (76, 84) in 14th place followed by John Birong in a tie for 21st with a 165 (84,81). Cayden Rininger 34th with a 173 (86, 87) and Micah Barkan in a tie for 42nd with a 178 (91-87) rounded out the team scoring for the Warriors
Defending state champion Connor Ritter of Sandy Valley finished in a tie for 12th place with scores of 82 and 77 for a 159.
The five boys began playing together in seventh grade and it didn't take long for Barto and Assistant Coach Gary Cogan to realize this group of kids had something special.
"We knew from their 7th grade year that they had the potential to be very good as they moved along in their development as golfers. 
It's funny how the other teams in the district and even statewide know you're really good.  They invite us to their tournaments.  We traveled to Oglebay and played Wheeling Park and St. Clairsville in a tri match.  Many of the boys have played many tournaments locally and nationwide to improve their games," Barto said.
As the golfers moved to the high school level, although young, they quickly developed their skills.
"We didn't expect to win the EBC that year," Barto recalled. "We were very young with only two seniors on that team.  We ended up winning the league title (Eastern Buckeye Conference, EBC) and Jaxon played Connor Ritter in a playoff at the district tournament for one spot to go to the state tournament.  Ritter won the spot on the first playoff hole.  I think it started Jaxon believing he could become really good.  It also gave the freshman inspiration to work even harder."
Barto said the expectations began to grow as their sophomore season approached. 
"We repeated as EBC champs and made our way through sectionals, districts and final qualifying for the state tournament.  We had always had trouble beating Garaway and we finally began to beat them in tournaments and post season play.  Garaway has had a history of a very strong program, so when we started beating them, we felt pretty good," he said.
The veteran coach recalled the boys first trip to the state tournament, calling it a learning experience.
 "Our first appearance in the state tournament was great," he said. "The boys were all sophomores, and no one had ever been to the "Big Show," including Coach Cogan and myself.  We finished toward the back of the pack that year, but we learned a great deal and began playing to get back there the next year."
The coaches planned the tournament schedule the next year to include tougher opponents and courses as well as tournaments that were at least 18 holes.
The extra work paid off. The team won the sectional and district tournament the boys junior and senior years and this season, won 10 tournaments.
"The last two years at state proved to the boys that they can play with the best golfers in the state," Bart noted. "We have finished third the last two years to two private/ parochial schools.  These schools are hard to beat as they seem to have the best players and resources every year.  Many players only go to those private schools to play golf.  Our boys play multiple sports and excel at all those sports, which shows their athletic ability and desire."
He was quick to give credit to others for the accomplishments of the team.
"We couldn't have done what we have accomplished these past four years without the help and support of many people and businesses.  Coach Cogan and Coach Rich Moyer have been there every step of the way.  Mr. Ledford and Mr. Eft have also run our junior program for the past two years. Mr. Eddy, Mr. Davis and Mr. Colaprete have always supported the team in anything we need or ask.  Our parents have been great as well. We also want to thank Carroll Meadows for putting up with us over the years.  Sometimes we get in the way, but they realize that these students/players will come back the rest of their lives to play at the course they grew up on.
Barto sees a bright future for the program.
"We added a junior program the past two years to get students from third grade through 6th interested in golf.  We have also held a summer camp for 30-plus years to get students interested in the game.  We have even had students from other schools attend. Each year the interest seems to grow," he said.
As his senior players finished up their final high school tournament of their golf careers, Barto reflected on the end result of all the hours and effort put in by players and coaches.
"When colleges and universities contact you about potentially making offers to your players it's really gratifying," he said.  "It validates all the long hours and hard work everyone has put in over the last six plus years."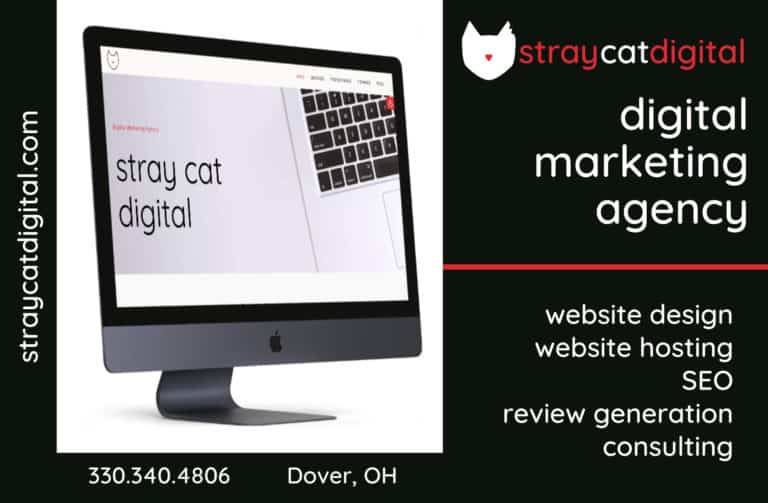 Sign up for our Newsletter
Interested in a monthl roundup of stories? Enter your email to be added to our mailing list.