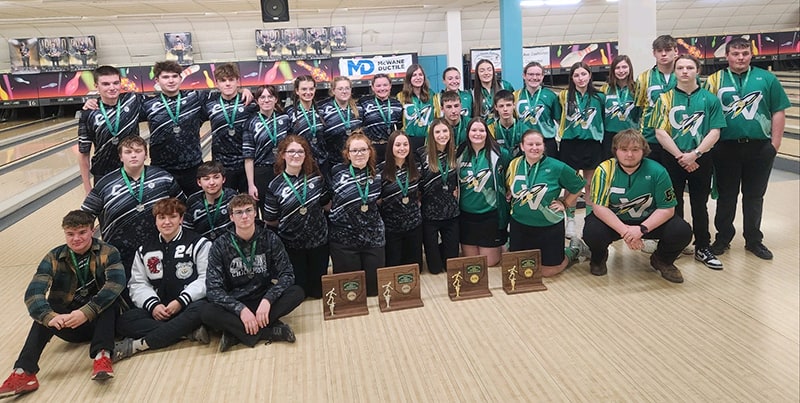 By Carol McIntire
Editor
What are the chances two teams from a small, rural county would sweep the top two spots in both divisions of the East District Division II district bowling tournament and qualify for the state tournament?
Some might have said no way, but Carrollton and Conotton Valley coaches, players and fans thought the odds were pretty good when the teams competed Feb. 23 at Legacy Lanes in Coshocton
They were spot on with their prediction.
Carrollton and Conotton Valley bowling teams swept the state tournament slots with the Rockets winning both the boys and girls divisions and Carrollton teams placing second in both divisions in a field of six teams.
The teams will compete in the state tournament March 3 and 4 at Wayne Webb Columbus Bowl.
Boys action
The Rocket boys team rolled scores of 866, 924 and 956 for a total of 2,766 while the Warriors recorded scores of 881, 813 and 847 for a 2,541.
In Baker competition, the Rockets posted scores of 202, 158, 167, 162, 187 and 167 for a 1,043 Baker total and a team total of 3,809. Carrollton recorded Baker scores of 148, 191, 165, 181, 181 and 211 for a 1,077 total and a team total of 3,618.
Nathan King of East Liverpool, a senior won the event with a 635 series.
Rocket freshman Nathan Downing was fourth 588 (188, 221,179), senior Robert Myer sixth 584 (202, 179, 203), senior Nolan Caldwell ninth 549 (179, 179, 191).
Senior Kobe Green led Carrollton in eighth place with games of 212, 170 and 183 for a 565 series. Teammate Brant George, bowled a 519 series (173, 198, 148).
Minerva's Michael May placed 10th with a 544 series but did not qualify as an individual.
Both state-bound coaches had praise for the effort put forth by the teams.
"The boys also had somewhat of a slow start as they started on a pair of lanes that had a lot of friction and hook at the beginning," said Conotton Coach Dennis Gordon. "They were able to pull together a decent game one but knew that they would need to improve to have a chance at the district title. After moving to a different set of lanes for game two was when things started to look up for the boys. They were to get lined up and make decent shots throughout the rest of the day as the oil conditions broke down and the lanes calmed down. As with our girl's team, these gentleman have come together as supporters of each other. If one individual is struggling, there is always a teammate there to pick them up. These athletes have also matured and grown into successful bowlers. We are excited to see what the future brings for these men."
"I am so proud of this team for continuing the tradition of excellence that was started in this program 15 years ago," stated Carrollton Boys Coach Dave Davis. "We started really well in the first game at districts.  However, the second game started badly.  After four frames, we were in jeopardy of really falling back in the standings.  At that point, all of the boys stepped up and 'saved' the game.  Then, in the third game we rebounded a bit and shot a respectable score which put us up by about 80 on the third-place team going into the Bakers.  We bowled well in the Baker series, extended our lead to secure the district runner-up title. The East District is full of great teams and great bowlers.  The crowd was loud, the bowling alley was packed with spectators, and the kids had a great time! 
Girls action
The Lady Rockets and Warriors flip-flopped team scores of over 900 in the first two regulation games and rolled to state berths.
The Rockets scored games of 781, 959 and 868 for a total of 2,608 while Carrollton bowled games of 943, 771 and 860 for a total of 2,574.
In Baker action, Conotton Valley rolled games of 149, 163, 190, 130, 218 and 190 for a 140 total and team total of 3,648. Carrollton scored Baker games of 127,166, 165, 160, 147 and 183 for a 936 and a team total of 3,510.
Sandy Valley placed third, 362 pins back, and Minerva fifth, 425 pins back.
"The girls had a very slow start at the beginning but were able to settle down and bowl very well for the rest of the tournament," said Conotton Valley Coach Brian Baxter. "It looked like nerves got to them a little bit but we were also fighting with the lanes being a little tighter and the oil pattern being slightly different than what we saw in practice at Legacy Lanes. After some equipment changes, making some moves, and getting calmed down, our ladies were able to put together a really good finish. What I liked the most was that when one or two of our girls struggled a little bit that the rest of the team was there to help them out not by just bowling better to make up for some mistakes but mentally to keep their teammates calmed down and focused on the next shot and not the previous one. These individuals really gelled together as a team this season and it shows."
"I am super proud of these girls for all of the hard work they have put in since Sectionals," commented Carrollton Coach Wendy Russell. "Sectionals didn't go as good as it could have for us finishing fourth. "We missed a lot of spares, but they came back from that regrouped and worked hard leading up to districts. Their hard work and determination showed at the district tournament opening with a 943 their first game and finishing as runner-up to a phenomenal team – Conotton Valley."
Individually Conotton Valley sophomore Mylie Galigher laid down scores of 163, 255 and 166 for a 584 series. Teammate Daphne Stuber placed sixth with a 555 (149, 220, 186) and McKenzie Willoughby, a junior, placed 10th with 527 (188, 186,153).
Carrollton senior Joline Greaves led the Warriors with a 561 series (220, 148, 193) with Aubrey Taylor, a senior, was eighth with a 550 (198 199, 153), junior Abby Natcher 526 (189, 144, 193) and junior Zoey Elliott 497 (190, 147,160).
Minerva was led by junior Shelby Worrell, who rolled a 485 series (142, 181,162) to place 15th. Miah Delaney, a senior, paced Sandy Valley with a ninth-place finish with 547 series (179,184, 184).
The 2023 state berth marks the sixth time the Lady Warriors have earned a state berth, which includes the past four years under the guidance of Russell.
"The excitement and anticipation is definitely in full swing," Russell stated. "It is awesome Carrollton and Conotton Valley teams, both from Carroll County, will represent the Eastern District."
2023 marks the sixth appearance at the state tournament for the Carrollton boys team.
Both Rocket teams are heading to Columbus for the first time.
When the coaching staff was asked what the state berths to the school and the athletes meant, they provided a joint answer.
"It means the world, not only to our school district but to our athletes and their families. To be able to take students that have never bowled before and get them to this level is tremendous. Coaches can only give their athletes the tools and direction to be the best that they can be, but it's up to the students to take that knowledge and put it to use. They have put in a lot of time to get here, they earned it. We have eight seniors between the boys and the girls, seven of which started with us as freshmen. To watch them learn the game, mature into adults and become leaders is pretty special," they said.
State tournament
The girls teams compete Friday beginning at 10 a.m. in the qualifying round. Individual awards will be presented at 3:15 p.m. (estimated time) and the championship round begins 10 minutes after the awards ceremony concludes. The top eight teams in the qualifying round will compete for the championship.
The boys teams compete Saturday and will follow the same schedule.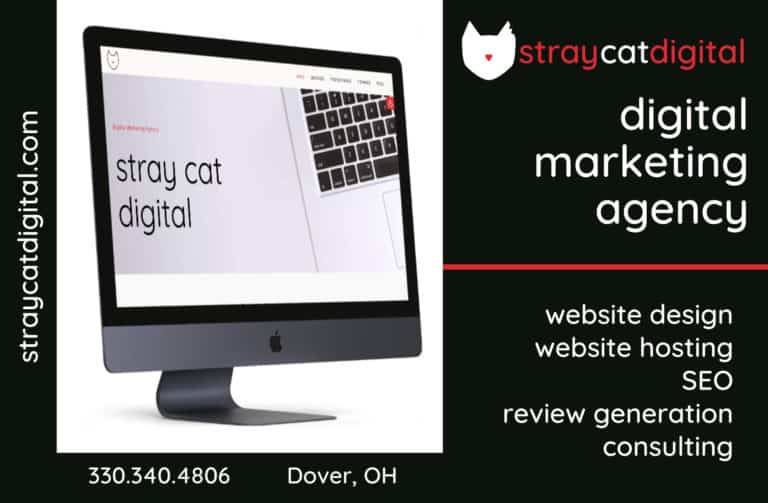 Sign up for our Newsletter
Interested in a monthl roundup of stories? Enter your email to be added to our mailing list.