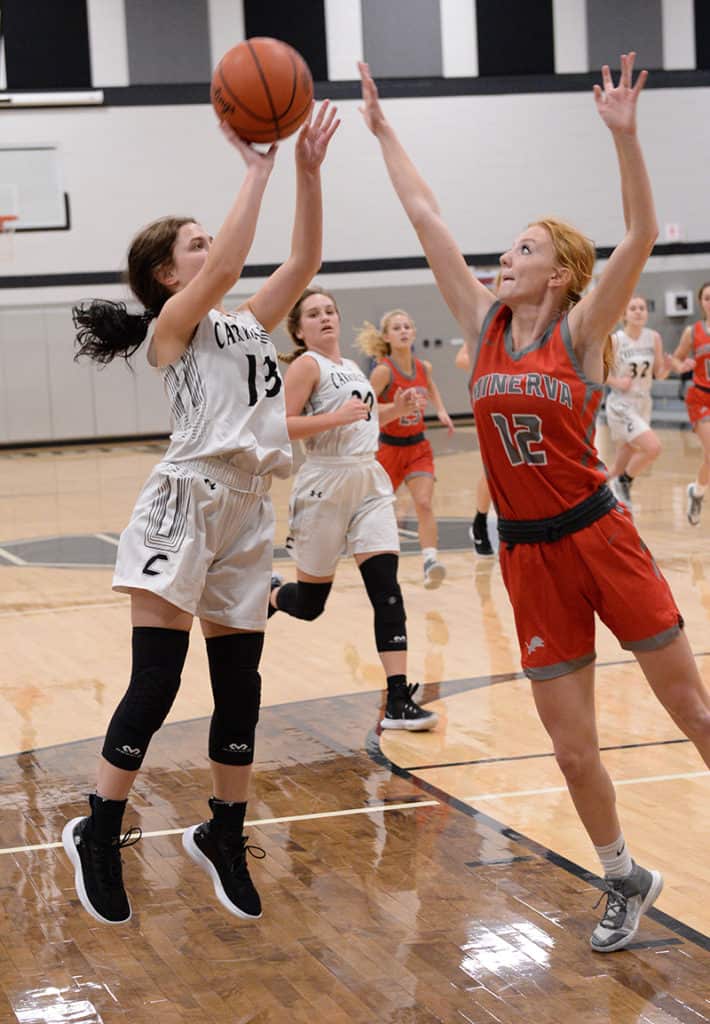 By Carol McItnire
Editor
Saturday's Carrollton Warriors vs. Minerva Lions girls basketball game was just as you'd expect any game between the two Eastern Buckeye Conference rivals to be: hard fought, full-of momentum swings and a battle to the buzzer. In the end, it was Lions on the winning end of a 65-55 score.
Playing on the road, the Lions enjoyed a first quarter where they imposed their will on the hosts and built a 20-3 lead.
Senior Jenna Cassidy scored the first six points of the game with three-point shots from both corners. Alyssa Risden followed it up with a steal and an easy layup and then sank a foul shot to give Minerva a 9-0 lead with just under four minutes left on the first quarter clock. Lydia Brunner then took over, sinking two foul shots, driving into the lane for a bucket and closed out a six point scoring spree when she grabbed an offensive rebound and put it back up.
Carrollton's only points of the quarter came off a foul shot by Izzy Stull and a steal and layup by sophomore Hillari Baker just before the buzzer.
The Warriors settled down and began clawing their way back in the second quarter, out scoring the visitors 16-13 to trail 33-19.
"I challenged them at halftime," Carrollton Coach Nic Schweikert said following the game. "I told them I love moments like this because they give you the opportunity so show what you are made of. They responded, but unfortunately we dug ourselves into a really big hole and when you do that, you can't always dig yourselves out."
Utilizing a full court press, the Warriors quickly chipped away at the Lions lead.
Lauren Marmo started the Carrollton rally by sinking two foul shots. Grace Leslie stole the ball, fed it to Demi Leary who quickly scored and then added a 3-point shot to cut the lead to 33-26 and promoted Minerva Coach Josh Morckel to take a time out at the 4:56 mark of the third period.
Marmo sank four shots from the charity stripe and Baker sank two foul shots after she was fouled driving to the basket to cut the margin to four points at 36-32 with 3:22 left in the period.
The momentum swung the Lions' way as Hera Hoffee scored her team's final five points of the quarter to give her team a 44-32 lead heading into the final quarter.
The Warriors refused to go away.
Sophia Glass swished the first half a two-shot technical foul and Baker drilled a three point shot from the top of the arc to spur the final Carrollton push. Glass grabbed an offensive rebound and put it back in, Lebanno sank a 3-pointer, Baker drove inside for a bucket and Marmo sank two foul shots as the hosts cut the margin to 48-45 at the 5:27 mark.
The Lions spread the court and in a move to run out the clock, forcing Carrollton to foul. The Lions took advantage of each trip to the foul line, sinking eight shots down the stretch to claim the victory. Foul shooting was key for the Lions in the contest as they sank 27 of 36 attempts for 75 percent. Carrollton was 15-for-24 for 62 percent. Minerva was whistled for 22 fouls and Carrollton 26.
Morckel praised the effort of his team.
"We have core pillars and one them is perseverance," he said. "Our kids have been working their tails off to figure out how, when things aren't going our way, to continue to battle. Seeing this team come together is a great thing."
He praised the effort of Cassidy, a 5-2 senior who led the league points last season.
"She's our general out there. She's got a lot of grit and passion. She's like a coach out there leading our team."
Four Lions reached double figures, led by Hoffee with 18. Cassidy and Risden added 17 apiece and Brunner chipped in 10. Cassidy dished out six assists.
Baker led all scorers with 24 points, including five 3-point shots. Marmo added 17 and led Carrollton with 13 rebounds.
Minerva won the junior varsity game 37-29.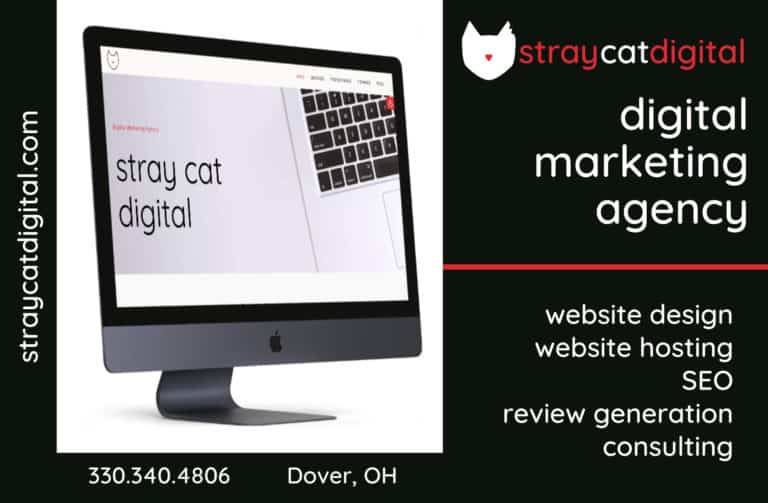 Sign up for our Newsletter
Interested in a monthl roundup of stories? Enter your email to be added to our mailing list.