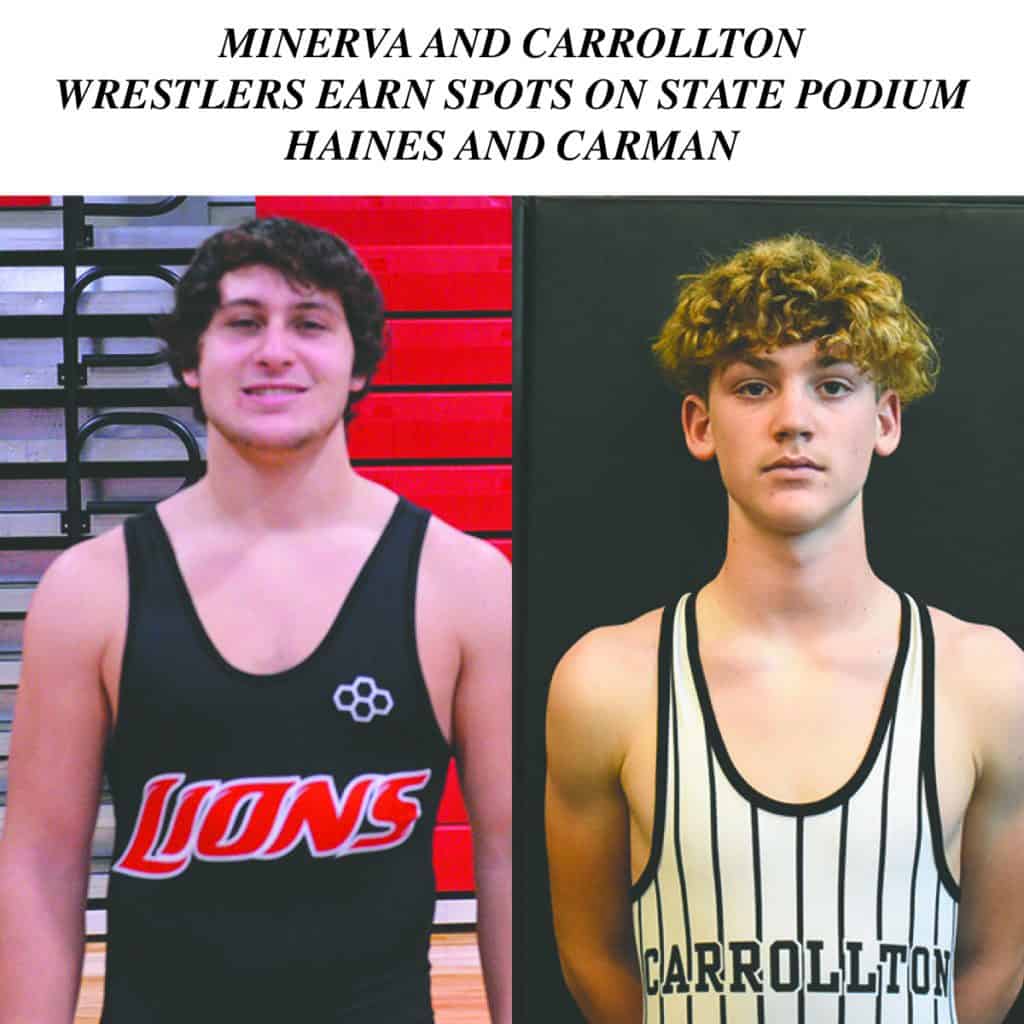 By Leigh Ann Rutledge
CCM Reporter
Carrollton sophomore Josh Carman (126 lbs.) and Minerva junior Kaiden Haines (215 lbs.) capped off the 2021-2022 wrestling season on the podium at the Ohio High School Athletic Association (OHSAA) State Wrestling tournament March 11-13 at the Jerome Schottenstein Center at The Ohio State University.
Carman (42-8), a two-time state qualifier, placed sixth in his weight bracket. He defeated Liam Hatgas of Holy Name by 11-1 major decision. He fell to Bryce Skinner of Akron SVSM 6-4 in sudden victory. Wrestling back, he won 7-2 over Tyler Sharrer of Canfield and Rubyn Semedo of Cleveland Central Catholic. Carmen fell to TeAndre Allen of Orange 3-1 in sudden victory. In the match for fifth, Carman faced Cameron Deiter of Bowling Green. With no score at the end of the first period, Deiter began the second period down. He escaped and landed a takedown from which Carman escaped to trail 3-1 going into the final period, Carman was down and escaped but was taken down and made another escape, falling 5-3 in the match and placed sixth.
Carman had a great time at the competition and said it was a great experience.
"I took a tough loss in the quarterfinals in overtime and then a second loss in overtime," he said. "I always wanted to wrestle on the big stage and there is more work to be put in."
Carman began wrestling in kindergarten and loves the sport because you can never blame a loss on your team.
"If you lose, it's on you. If you win its on the hard work you've put in," he said. "I plan to continue wrestling and to stand on the top of the podium in the next two years."
Head Coach Joe McGee said Josh had a solid tournament.
"At this level anything can happen, and a few matches weren't in his favor," McGee said, adding, "but his losses were to the champ, third and fifth placers and were all extremely close and proves he can be atop the podium when it does swing his way. We're all extremely proud of Josh. All the boys continue to represent our school and community proudly."
Haines (41-5) pinned Jimmy Scharrer of Canfield in 2:22 in his opening match. He fell to Max Shulaw of Columbus DeSales by pin. Dropping to the consolation rounds, he won over Cruz Mobley of River View by 15-4 major decision. In a bid for third, he fell to Eli Emmons of Badin by pin. He faced Bryce Bennett of Miami Trace for fifth place. The match was tied 0-0 at the end of the first period. Bennett began the second period in down position and scored a reversal which Haines escaped to end the second period 2-1. Haines began down in third period and escaped. Bennett scored a takedown and Haines landed a reversal. Bennett countered with a reversal and won 6-4.
Minerva Head Coach Chad Hilliard noted Haines had nothing to hang his head about.
"He came out here and hung with the best in the state. He was a takedown or two from being in the top three instead of the top six," Hilliard said. "He doesn't have the state experience. This was his first time being down here and he met it head-on. He's going to be better because of those performances. He never took himself out of a match down here. I know he is disappointed, but this is all valuable experience and he has another shot at it next year. He will know a little bit more about what to expect and how to prepare and capitalize on those few times you get to score points at the state tournament."
Nine area wrestlers walked on the mats at the state tournament, and all walked off different mats, at different times, in different placings, but all are known as a state qualifier. While none of them stood on top of the podium, they were all champions in their own way. Like any other quest, they had a vision and a drive to reach for the top.
Carrollton sophomores Landon Jenkins (106 lbs.) and Levi Pidgeon (120 lbs.), along with Minerva's Connor Norris (113 lbs.), Andy Strader (120 lbs.), Khail Louive (157 lbs.), Nick Chaddock (165 lbs.) and Garrett Hilliard (190 lbs.) competed at the state level.
Lion seniors Louive, Chaddock and Hilliard finished their high school wrestling careers on the state platform.
Louive (34-7), Norris (39-8) and Strader (32-13) were eliminated in the first round. Hilliard defeated Angelo Gonzalez of Napoleon 5-4 in sudden victory. In the quarter finals, he fell to Carson Miller of Granville. Moving to the consolation rounds, he fell to Dilion Davidson of Taylor. Chaddock was defeated by Lincon Shulaw of Columbus DeSales in the first round. Dropping to the consolation rounds, he pinned Jayden Potok of Tallmadge in 4:03.
Coach Hilliard noted it has been a very exciting week for Minerva, making the trip to Columbus with six wrestlers.
"The practice room was unlike anything I've gotten to experience having most of our guys still in the room training," Hilliard said. Being able to come down here as a group and share in this experience has been awesome. As for our performance, we performed at our very best last week as a team winning the district title and coming down here with the guys in the bright lights and having tough competition. Some of them didn't perform where they expected to be but at the end of the day they got to be here together and [it was] a lot of fun for everyone to have that experience."
Jenkins (35-10) won his opening match 3-1 over Peyton Costa of Granville before falling to Javaan Yarbrough of Copley by 12-3 major decision. In an attempt to wrestle back, he fell 4-2 to Tate Hisey of St. Marys Memorial.
Pidgeon (29-9), a two-time state qualifier, fell in his opening match to Ruben Pina-Lorenzana of Fireland. In the consolation round, he defeated Wyatt Nemitz of Perkins 1-0 before falling to Aiden King of Hartley by pin after his arm slipped and he was caught.
Carrollton wrestling has a huge following of friends, family members and teammates who made the trek to Columbus to watch the Warrior trio.
Head Coach Joe McGee said everyone had a great time.
"All the boys won a match and were close to getting on the podium. They loved the experience and were happy to get to be in the Schott," McGee said. "They took the opportunity to fulfill a bet from earlier in the season and the three walked away with shaved heads."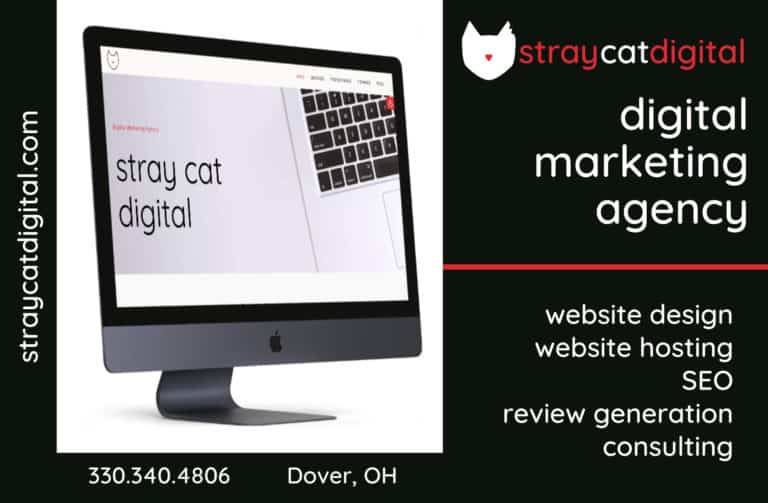 Sign up for our Newsletter
Interested in a monthl roundup of stories? Enter your email to be added to our mailing list.