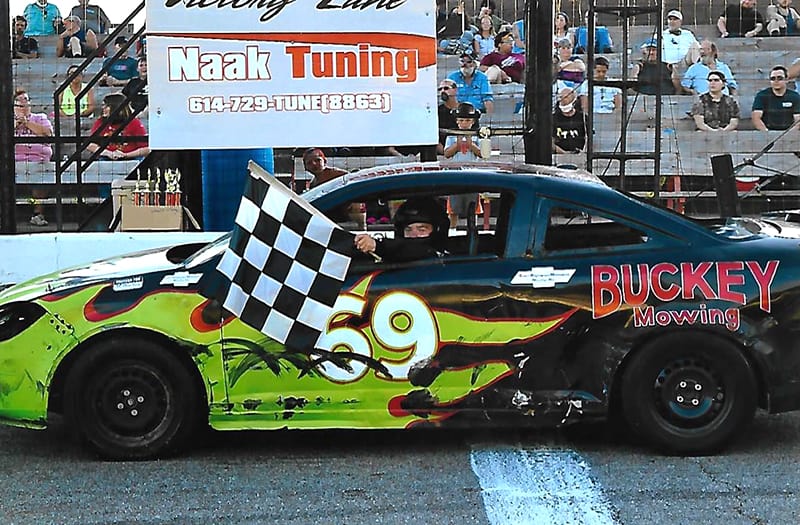 From driver to behind the scenes grandpa
By Leigh Ann Rutledge
Associate Editor
A question from a friend resulted in a 10-year career racing at Midvale Speedway for Dan Buckey.
"It started when Tom Cottis asked me if I would sponsor his son, Colton, who raced at Midvale," Buckey explained.
All life-long Sherrodsville residents, Buckey agreed and went to the track that fateful night in 2010. Buckey headed out of Sherrodsville with tires, but came home with a race car for the compact class. He and Brad McLean of Sherrodsville were co-owners of the race car. They brought the car home, painted it and purchased the required safety equipment (fire suit, helmet, shoes, etc.). McLean raced the car, but after he was injured, Buckey took over and finished the remainder of the season.
"That is when I fell in love with racing," Buckey said. Soon Buckey had his own car, a Chevy Cavalier.
"Driving down the track that first time, you feel like you are flying," he explained. "When I started racing, top speed was about 57 miles per hour (mph). Now through improvements, it's hitting 70 mph."
Buckey went to Midvale on Friday nights to learn how to the drive the track and navigate the corners. The practice paid off. He won his first championship in 2012, following that award by winning the championship in 2013 and 2014, also. He noted he won a feature each year he has raced, except in 2014.
"I didn't win a feature, but I won the championship that year," he added. "My last win was just as a exciting as my first win."
Buckey also races at Painesville and Barberton. He (and other racers) say Midvale has the best drivers in the state.
"There are drivers I respect at Midvale and run side-by-side with them," Buckey stated. "It doesn't matter how much money you have in the car, it's how you drive, consistency, and your pit crew."
Lending a Hand
Laughing, Buckey admits he "doesn't even know where the dipstick is to check the oil" in the race cars.
"I don't do any of the work on the cars. I have been really fortunate to have some good friends who do the work," he explained. "I go to work and make the money to put in the cars."
In 2017, Buckey switched to driving Chevy Cobalts. They are rated at 20 more horsepower than the Cavaliers, but do not handle as well, according to Buckey. He did set a track record with a Cobalt Aug. 26, 2017, he had a 17.276 lap.
While his friends help him out, Buckey also pays it back.
One of his friends, Mike Stuber began helping out around the garage as a mechanic. When he decided he wanted to drive, Buckey bought a car for him to drive. Along with Buckey, his race shop houses four drivers, Stuber, Blake Miley, Buckey's grandson, Drew Romig and Stuber's daughter, Tabby. Miley and Tabby run in a newly created class "Trophy Stock", designed for beginners. A fifth car is "in process", but not finished to racing standards.
Photographs taken at the track line shelves and hang on walls. From behind the bar, Buckey shows a pamphlet from Midvale from his early years. It's a working shop, but has a "homey" feeling almost inviting visitors to pull up a chair and chat.
Various car hoods hang on the walls, including the hood of Buckey's West Virginia University (WVU) car, his favorite. Painted in Mountaineer colors gold and blue, the Cavalier hood was painted in honor of The Norma Mae Huggins Cancer Research Endowment. The endowment was established by her son, Bob Huggins, the WVU boys basketball team coach. The Endowment Fund supports clinical cancer research, targeting many types of the disease that are common among residents of the Mountain State, which has one of the highest cancer mortality rates in the nation.
When Huggins was at the Eastern Ohio Sports Complex in Sherrodsville, Buckey drove the car to the complex and asked Huggins to sign it. He gladly obliged.
Another hood on display features the "road rash" from when the car Stuber was driving flipped onto its roof and skidded down the track.
Miley, 20, was at Midvale with his dad, Matt, who was racing. Buckey had taken an extra car and did not have a driver. Around 15 minutes before qualifying, he saw Miley and told him to find a suit because he was going to drive. Miley who had never driven the car or raced, qualified, and won his heat and the feature. (Local driver Eddie McLean loaned Miley a suit for the race, later telling him to keep it.)
Another time, one of the regular driver's car broke down. Buckey told him to use his car. The driver won his heat.
Mid-Vid Video of Uhrichsville has helped Buckey over the years. He drove their car one year because it was faster than his car. Buckey, in turn, lent his car to another driver for that season.
He owns Buckey Mowing and Landscaping and has over 100 regular clients. His company has sponsored the street stock class at Midvale at various times.
2020 & the
Next Generation
Due to the coronavirus pandemic, the racing season started later than usual. Buckey won the feature opening night.
"I thought I was done," Buckey stated. "During my interview, I thought of how pumped (Mike) Stuber is and how Drew (Romig) wants to race and I knew I had to continue."
In a heat race this year, Buckey said he hit the wall so hard it knocked the wind out of him. He has been very fortunate and hasn't been injured while racing.
"The cars are really well built," he explained. "You don't take junk cars and turn them into race cars. You begin with high quality cars."
They dragged the car back to the trailer. Stuber had to repair the right front suspension. Buckey ran to pick up parts and when he returned, Stuber was ready to install the new parts.
"I came back and won the feature," Buckey said. "Stuber tried to pass me, but couldn't. He worked his tail off to get my car running, then couldn't pass me."
Romig made his inaugural run at Midvale at the beginning of July. He spent time at the track and thought racing looked like fun. Before he could race, he had to learn to drive a stick-shift. Buckey put him in a car to practice, telling him, "as you let this one out, you push down on this one."
Romig practiced at Buckey's home and at the sports complex down the road. A quick learner, he won his first heat race and placed third in his feature event in the compact class. Heat races usually have eight cars racing at a time. The features have 13 or 14 cars per event.
"The feature wasn't much different," Romig laughed. "It was faster, more intense and I had more nerves!"
While Romig could participate in the trophy stock class, he is in the compact class and has competed twice.
"He's running good. When he practices, he is only off my times by a tenth-or-two," Buckey stated. "Some of the older guys watch the practice runs and tell me, 'He's got talent'."
Buckey is unsure if he will get back in the driver's seat, saying it is more fun to watch the kids drive.
"If Drew wants to drive, I will get him whatever car he wants," Buckey said.
Romig, unlike Buckey, wants to learn how to work on the cars. He is a sophomore at Dover High School and plans to attend Buckeye Career Center to be a diesel mechanic. Along with racing, he is on a shooting team and is a Boy Scout. He helps both grandfathers, mowing with Buckey and helping Jim Romig with Romig Excavating.
As Buckey contemplates his next step, he said, "I have always been at least sixth or higher in points since I started racing. I have been awarded 80 trophies in 10 years."
He is thankful for those who have helped, especially Mike Stuber and Justin Renicker. "They can change a motor like the rest of us take a shower," Buckey explained. "They can have a car running in 2-2 ½ hours."
At press time, Midvale Speedway was closed due to COVID-19 restrictions. As of July 29, Tabby Studer is the points leader in the Trophy Stock class. Blake Miley is just five points behind in second place. In compacts, Mike Stuber is in fifth and Buckey is eighth.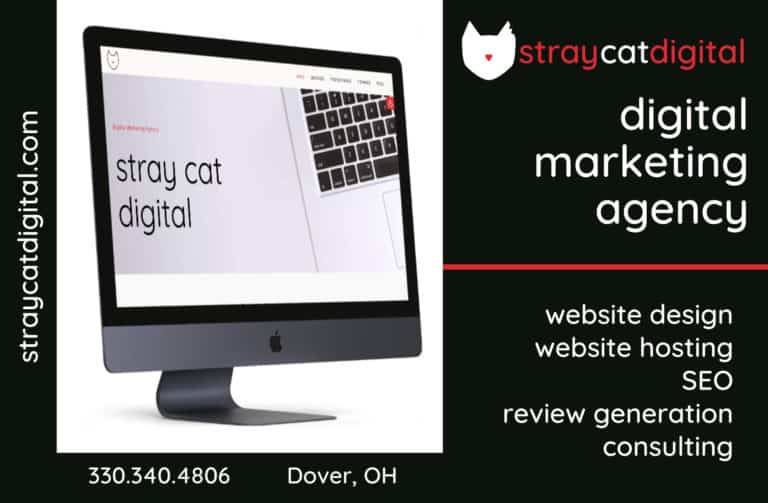 Sign up for our Newsletter
Interested in a monthl roundup of stories? Enter your email to be added to our mailing list.