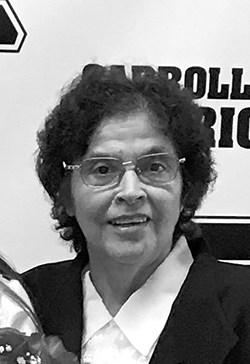 Marta Maria Long, 74, of Mechanicstown, passed away at Mercy Medical Center on Thursday, Jan. 19, 2023.
Marta was born in Brownsville, Texas on Jan. 16, 1949. She was raised in Harlem Springs along with her three siblings, Ray, Alicia and Rick, by their parents Canuto and Eleanor (McAfoose) Ramirez. Marta is preceded in death by her parents and her two brothers.
Marta married her husband Robert M. Long from Mechanicstown on June 6, 1971, in Harlem Springs. Marta and Robert, who survives, have two sons: Robert (Lisa) Long Jr. of Carrollton and Tony (Amy) Long of Holiday FL. Marta was blessed with 5 grandchildren: Summer, Alisabeth, Hunter, Cy, and Troy.
Marta had many hobbies: stain glass work, painting, and baking. Marta was a very competitive person when it came to playing cards and board games. Marta was a loving wife, a nurturing mother, and a spoiling grandmother that will definitely be missed but never forgotten.
Marta also leaves behind her sister Alicia Petrovich of Canton; sister in-laws Karen and Patty; niece Mamie Gonzales of Minerva, along with several other nieces and nephews.
Memorial service will be held at Bartley Funeral Home, 205 West Lincoln Way, Minerva, Ohio, on Friday, Jan. 27, 2023, at 4 p.m. with Pastor Chuck Naylor of Herrington-Bethel Church officiating.
Friends may express their condolences on the website: www.bartleyfuneralhome.com.
Sign up for our Newsletter
Interested in a monthl roundup of stories? Enter your email to be added to our mailing list.