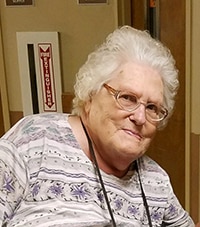 Geraldine Mae Crater, 85 of Minerva, passed away Monday, April 19, 2021, at Arbors at Minerva.
Born June 14, 1935, in Pekin, she was a daughter to Earl and Dorothy (Steigner) Keister.
Geraldine is survived by two sons, Nevin (Barbara) Crater of Malvern and Aaron Crater of Canton South; two daughters. Susan (Robert) DeLong of Malvern and Karen (Donald) Kutscher of Minerva; four brothers, Raymond Keister, David Keister, Dale (Bonnie) Keister and Larry Keister, all of Minerva; three sisters, Sandra (Dan) Shank of Minerva, Ellen Windel of East Canton and Darlene Cooper of Toledo; nine grandchildren; 22 great-grandchildren; and three great-great grandchildren. 
In addition to her parents, Geraldine was preceded in death by her husband, John Crater, and a brother, Russell Keister.
Calling hours will be held Wednesday, April 21, 2021 from 6 to 8 p.m. at Bartley Funeral Home, 205 W. Lincoln Way, Minerva.
Private graveside services will be held. Burial will be in Liberty Cemetery, Minerva. Friends may express condolences at www.bartleyfuneralhome.com
Sign up for our Newsletter
Interested in a monthl roundup of stories? Enter your email to be added to our mailing list.