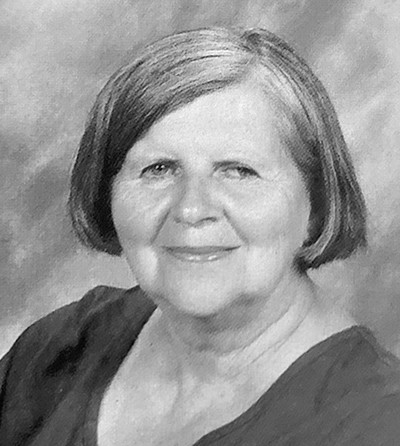 Frances Louise Shotwell Mahmoud, 81, of Carrollton, passed away on Thursday, Jan. 26, 2023 at Amberwood Manor in New Philadelphia, Ohio.
She was born on Dec. 7, 1941, in Canton, Ohio, to Byron "Shottie" and Mary Isabel Long Shotwell.
After graduating from high school, Frances attended Milligan University and graduated from there in 1963. She earned her Master's Degree in Education from Kent State in 1970. She taught Kindergarten and 1st grade in the Lorain County School District in Elyria, Ohio for 28 ½ years, loving and nurturing each one of her students. Upon retirement, she came back to Carrollton where she spent the rest of her life. Frances was instrumental in helping Chris McClain and others re-establish the majorette core with the Carrollton High School Band. She enjoyed her time with the Alumni Majorettes. She loved to play the flute, sing, and twirl the baton. Frances was an active member of First Presbyterian Church in Carrollton. She also enjoyed being involved in the Carroll County Historical Association. She enjoyed being involved in the Library Book Club, and listening to the books on tape when her eyesight was failing her. She enjoyed the many meetings and luncheons with the Retired Teachers Association. Her cats brought her much joy and purpose in her later years.
Frances was preceded in death by her parents and her loving aunt, Ollie Long. She is survived by her sister, Mary Anne Walls and her husband, Wayne, her niece, nephew, and four great nieces and nephews. She wanted to make sure that many people who helped her in so many ways were thanked, and that they know how much you all meant to her: The entire Lewis Family, George and Kelly Bemish, Ernie and Julie who were her best friends, Carol Butler Wenger and her high school girlfriends, Jane and Ed Stallings, and the Good Shepherd Catholic Nuns. Her life was made easier and more enjoyable by her friendships with Chris McClain, Pam Gallaher, Dorothy Prohl, and Bill Finley who all went over and above to help her to enjoy life as she lost her mobility and eyesight.
Funeral services will be held at 11:00 a.m. on Tuesday, January 31, 2023 at the First Presbyterian Church in Carrollton with Rev. Timothy Dyck officiating. Burial will follow in Westview Cemetery. Visitation will be held from 10 a.m. until the time of services.
Dodds Funeral Home assisted with services.
Sign up for our Newsletter
Interested in a monthl roundup of stories? Enter your email to be added to our mailing list.