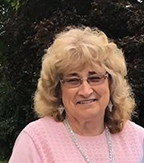 Doris Faye Brown, 80, of Salineville, passed away unexpectedly at home Tuesday, Nov. 10, 2020.
Born Sept. 23, 1940, in East Liverpool, she was the daughter of the late Henry and Pearl (Beadnell) Davison.
Doris was a member of the Family Worship Center in Carrollton. Doris had a great love of flowers and spent many hours planting and grooming her lavish flower garden. She always made sure she took visitors on the grand tour explaining each different type of flower and plant. She loved to garden and looked forward to making homemade spaghetti sauce, vegetables, jellies and jams. An avid cook and baker, Doris loved the holidays and enjoyed baking, decorating and entertaining.
Most important to her was caring for and being with her family. Doris devoted her life to her family and never forgot a birthday, anniversary or special occasion.
She is survived by her husband of 63 years, Jack Monroe Brown; her children, Dorinda Sabol, Jack Brown, Pamela (Mike) Stone and Kristina (Shawn) Fredericks; five grandchildren, Christy (Robert) Baker, Amy (Ty) Sutton, Jackie Brown, Bree Brown and Maximilian Fredericks; nine great grandchildren, Taylor George, Nicholas Sutton, Nathan Sutton, Mariah Sutton, Kayla Bowersox, Kenzie Bowersox, Jaclyn Brown and Mazikeen Brown and Maddox Thomas; sisters and brother-in-law, Helen Beadle and Evelyn (Earl) Manning: and her beloved furry sidekick, Mimi. Doris will be terribly missed by her loving family and her many, many friends, including her very best friend, Tomi Ball.
Doris was preceded in death by her grandson Bradley J. (BJ) George; sister, Audrey Johnson; and brother, William Davison.
Funeral services were held Nov. 13 at Kerr-Pastore Funeral Home in Salineville with Pastor Diana Ruff from the Family Worship Center in Carrollton officiating. Burial was in Chestnut Grove Cemetery.
Sign up for our Newsletter
Interested in a monthl roundup of stories? Enter your email to be added to our mailing list.