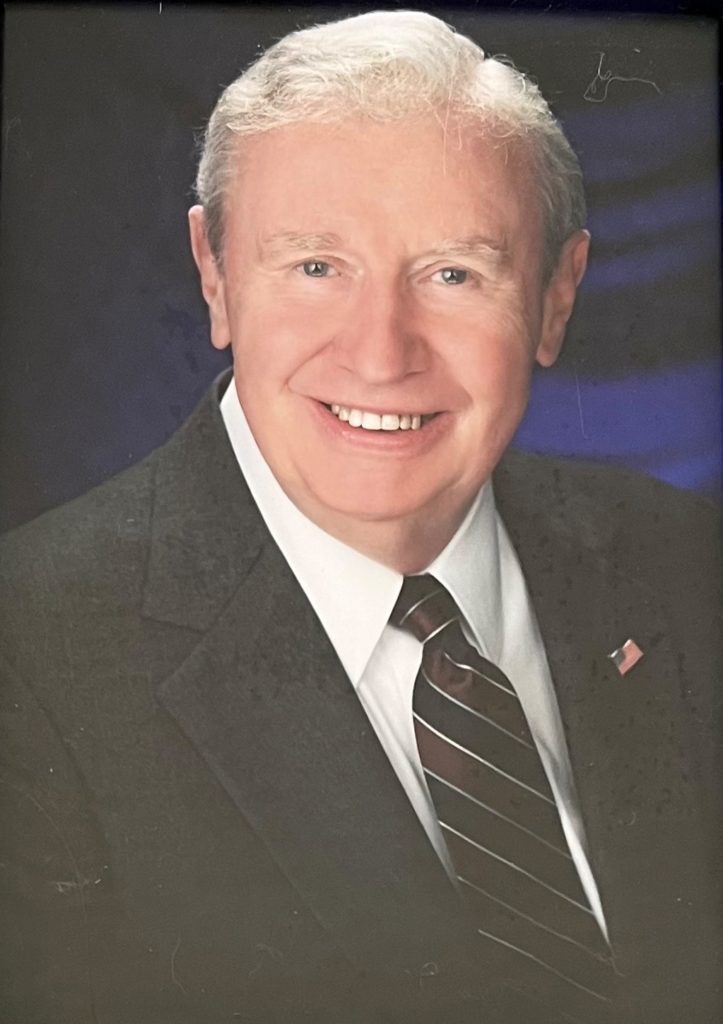 Charles Evans Fitterer, 93, of Minerva, passed away peacefully at Union Hospital on Tuesday, July 19, 2022.
Charles, also known as "Charley," and during his childhood, "Skip," was born in Pittsburgh, PA, on June 18, 1929, the only child of the late George Raymond (GR) and Katherine (Evans) Fitterer.
Charley grew up in Oakmont, PA, graduating from Oakmont High School (now Riverview) in 1947. He first attended Cornell University and then graduated from the University of Pittsburgh in 1951 with a bachelor's degree in electrical engineering. During one summer while he was in college, Charley worked at Canyon Village in Yellowstone National Park.
Upon graduation from college, Charley served in the Korean War. He was stationed at the Electronic Proving Grounds at Ft. Huachuca, AZ, after boot camp.
After his discharge, he was employed by General Electric in Schenectady, NY, before moving to California to join Hewlett-Packard (HP). It was during his tenure at HP that he met the late Shirley Ann Strain and married her in 1958. They had four children together, Clifford, Laurence, Jill and Richard.
The Fitterers moved to Colorado Springs in early 1962 as Charley helped start up HP's Colorado operations there. During their residence in Colorado Springs, Charley and Shirley formed friendships that would last a lifetime.
The Fitterers moved back to California in 1965, and then to Allison Park, PA in 1968, where Charley and his father, GR, formed Fitterer Engineering Associates (FEA), marketing GR's patented technology to the steel industry.
After the children left home, Shirley moved back to California to take care of her parents, while Charley remained in Pennsylvania to take care of his parents and to manage FEA and its successor company, Deox Systems, which he also founded.
Years later, Charley moved to Minerva, where he eventually met and married Linda Rae Peddicord June 27, 2009, nine days after Charley's 80th birthday. Charley loved the Peddicord family and was grateful for their love, hospitality and support through the years.
Charley was a very bright, sweet, and thoughtful man; always willing to lend an ear and offer empathy. He had a lifelong interest in music, particularly classical and ragtime, and was a better and more gifted pianist than he would ever acknowledge. He helped cultivate an enduring love of music in his children.
Charley was naturally proud of his military service and served in American Legion Post 357 for many years. He also enjoyed mentoring entrepreneurs through SCORE.
Charley was a lifelong Presbyterian, and most recently a member of First Presbyterian Church in Minerva. Charley died as he lived, with the sure hope of the Resurrection.
Charley is survived by Linda and her family; his children, Cliff, Larry (Lola), Jill and Rich (Lorrie); and six grandchildren, Lauren, Courtney, Ethan, Emily, Jack and Elizabeth.
Memorial service with full military honors will be held Sunday, Aug. 7, at 2 p.m., at First Presbyterian Church of Minerva, 204 Edgewood Dr., Minerva, with Timothy Dyke, officiating. In lieu of flowers, contributions can be made in Charley's honor to First Presbyterian Church of Minerva or American Legion Post 357, 600 W. Lincoln Way, Minerva OH 44657.
Friends may express condolences at www.bartleyfuneralhome.com.
Sign up for our Newsletter
Interested in a monthl roundup of stories? Enter your email to be added to our mailing list.