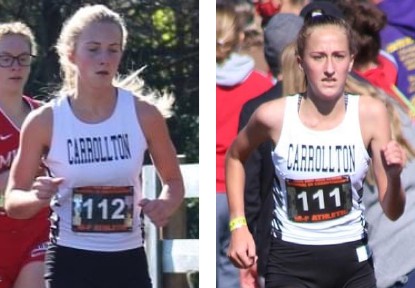 Barker, Baker, Minerva girls team punch tickets at regional meet
By Carol McIntire
Editor
Carrollton and Minerva are sending runners to the Ohio High School Athletic Association (OHSAA) state cross country meet Saturday.
Carrollton junior Camryn Barker is making her second trip to the state's top race, which will be held at a new location, Fortress Obetz near Columbus. She will be joined by freshman teammate Hillari Baker in the Division II race.
The pair qualified by finishing in the top 28 at the regional meet, held Oct. 31 at Pickerington. Barker placed 13th individually with a time of 19:46. Baker was 27th in the field of 171 runners with a time of 20:27.8.
Minerva will send its second-place regional team to the state meet. The Lady Lions finished behind Granville, the winner of the Division II girls race, with 83 points. Granville tallied 60 points to win the championship title from a team of 21 teams. It is the sixth consecutive trip to the state meet for the Lady Lions and the 12th time in program history. The team is ranked seventh in the state in the Ohio Association of Track and Cross Country Coaches poll.
Senior Aubrey Dunham led the Lady Lions, crossing the finish line eighth in a time of 19:41. Following Dunham, and earning points, were sophomore Hera Hoffee 14th (19:54.6); junior Jenna Cassidy 22nd (20:17.2); sophomore Tori Dunham 29th (20:34.2); and sophomore Caitlyn Hopple 41st (20:55.1). Others competing included junior Madeline Crissman 54th and sophomore Julie White 72nd.
"We are ecstatic to be the regional runners-up!" stated excited coach Olivia Scott. "Several of the teams we raced are ranked in the top 10 of the state. Granville is ranked second and they only beat us by 20 points. Last year at regionals we placed fourth so moving up two spots is awesome!"
Scott addressed the times of runners at the regional meet.
"The times were not fast due to a muddy course from all the rain we had this week. I told them not to worry about times since it is all about placement at regionals. Aubrey ran the best race of her career, getting a lifetime personal record and getting her first ever individual state qualification. Hera ran a steady race placing 14th and qualifying individually. Jenna was 22nd, punching her third individual qualification to state. It was a heartbreaker for Tori as she placed 29th, missing individual qualification by one spot. I am so proud of her and her progression this year. She is very smart with her training and has put in a lot of off-season miles to be where she is today. Luckily, she will still run at the state meet with her sister, Aubrey, and teammates. Caitlyn, Madeline and Julie all had great races as well. I think we will turn some heads at state! I believe in these girls and their determination."
As a team, Carrollton placed ninth at the regional meet, two spots out of state-qualifying berth. Carrollton runners who earned points for the team with Barker and Baker included: senior Tessa Bodo 83rd (22:18.9); sophomore Maddie Burgett 121st (23:41.1); and senior Kyra Bodo, 122nd (23:30.3). Sophomores Kayla Lewis and Keira Taggart finished 145th and 147th respectively.
Sandy Valley finished 11th as a team at the regional meet with 333 points. The team was led by freshmen Kalia Sarver 67th and Kaydence Hoover 69th place.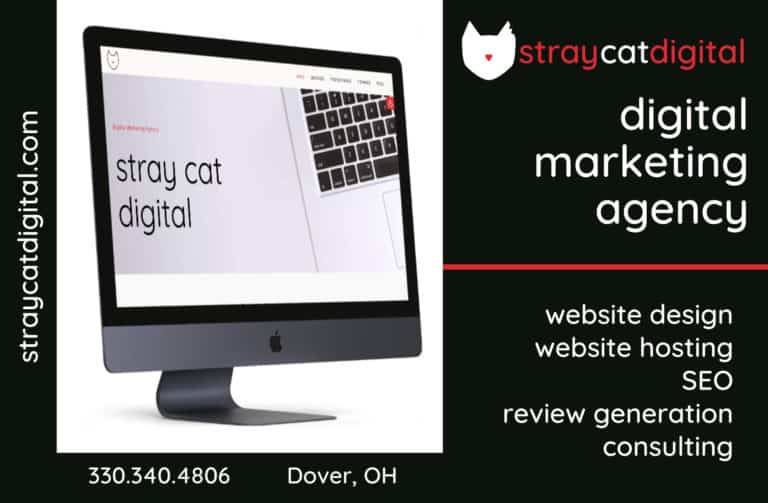 Sign up for our Newsletter
Interested in a monthl roundup of stories? Enter your email to be added to our mailing list.