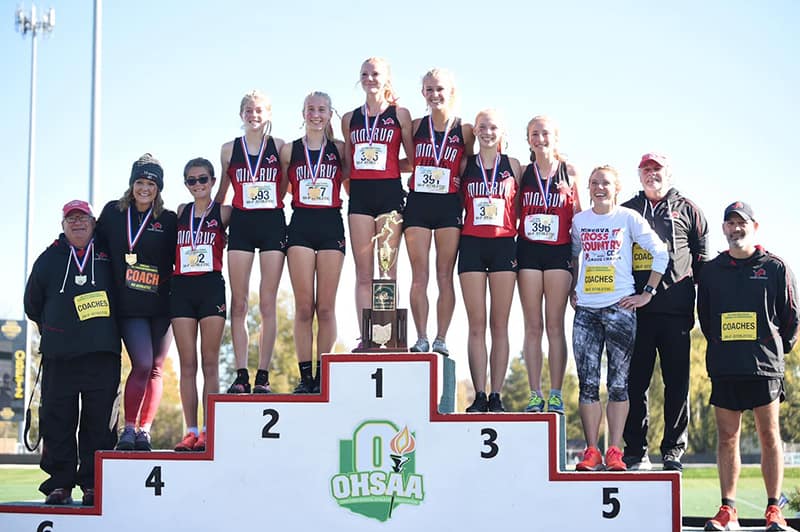 Lady Lions bring home Division II trophy
The Minerva girls cross country team won the first Ohio High School Athletic Association (OHSAA) state championship in school history Nov. 6 at Fortress Obetz.
The girls won the Division II title by defeating Granville by three points, 136-139.
Adding to the excitement was Connor Shingleton, who placed third in the Division II boys race.
"To bring the first team OHSAA state championship home to Minerva is an honor," said Coach Olivia Scott. "These girls have worked so hard and will be remembered forever, it was a special day."
The Lady Lions were in seventh place at the one-mile marker and third at the two-mile marker. "The third mile was championship time and our girls would not be denied," Scott said. "This victory is a total team effort. To win by just three points is unbelievable. Every girl, every move, every second counted. We were seven strong today."
Scott spoke of the effort of the seven girls.
Hera Hoffee, 21st place with a time of 19:01.4
"Hera had a special race today. She had a huge time, an amazing place and a great race. She led us to victory."
Jenna Cassidy, 31st, 19:12.4.
"Jenna has left her mark on Minerva Cross Country. We will miss her. She saved her best for last. What a race she put together today."
Hannah Ison, 42nd, 19:28.
"Hannah was right where we needed her to be. To handle the pressure of a state championship race as a freshman and come in number 42 was unbelievable."
Caitlyn Hopple, 73rd, 20:04.3.
"Caitlyn finished strong. She has really come on during postseason races. We don't win this championship if she doesn't peak when it matters most."
Kayla Crissman, 75th, 20:06.8.
"Kayla was a difference maker. Winning a state title takes a strong number five girl. She was awesome today."
Tori Dunham, 87th, 20:15.4 and AnnaBelle Crissman, 89th, 20:16.2.
"Tori and Annabelle came in just ahead of Granville's 4 and 5 girls. It was a big responsibility today and they ran with so much heart and grit. In a race where every single point counted, we needed them today and these girls stepped up."
Boys results
The Lions boys team placed 16th in the field of 19 teams with 335 points, led by Shingleton with a time of 15:39.9 and All-Ohio first team status.
Rounding out the Lion effort were Grasyn Rettig (58th), Ryan Cassidy (125th) Mason Steele (133rd), Owen Grubb (156th), Brandon Davis (172nd) and Connor Norris (173rd).
"Our boys outperformed all expectations today. We could not be more proud of them," Scott commented.
"Connor (Shingleton) left it all on the course today. I cannot say enough great things about this young man. He has our school record and highest state place finish in school history. He has set the bar for what being a champion is, both on and off course. He has left a legacy in our program that all others can look up to."
She also had praise for freshman Rettig.
"Grasyn is one of the top freshmen in the state. He has his sights set on All-Ohio next year," Scott said, adding that the boys team is very young.
"They ran with the heart of a lion today. It was a dream season and the future is very bright."
The veteran coach expressed appreciation to the community for its support.
"The support from our community was amazing, you could see and feel a sea of Minerva Lion fans in the crowd cheering. We appreciate our fans, families and school administration more than they will ever know," she said.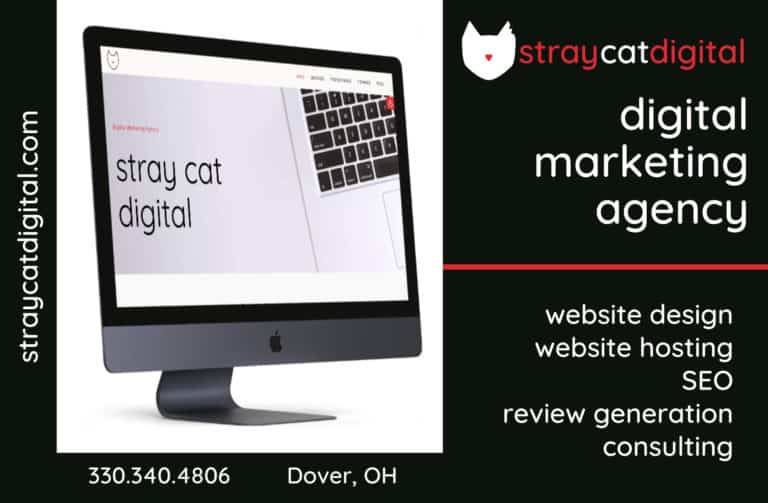 Sign up for our Newsletter
Interested in a monthl roundup of stories? Enter your email to be added to our mailing list.