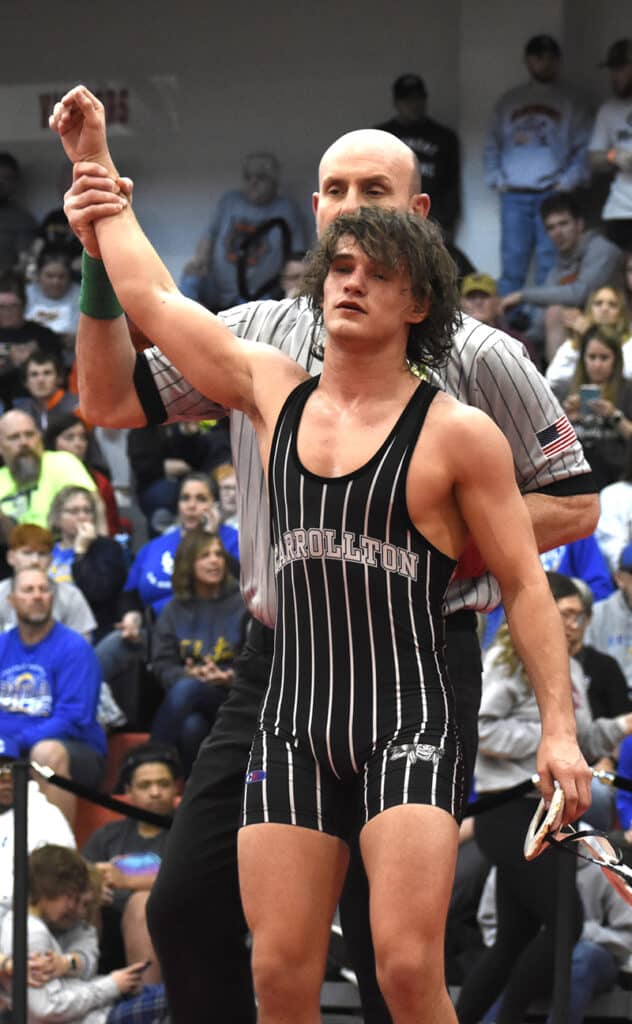 By Leigh Ann Rutledge
CCM Contributor
Twelve area wrestlers earned a "Schott" at a state championship during district competition last weekend.
Five Carrollton Warriors, four Minerva Lions and three Malvern Hornets are headed to the Schottenstein Center in Columbus for the 86th annual Ohio High School Athletic Association (OHSAA) Tournament March 10-12.
The top four in each weight class in district competition advance to the state tournament.
Carrollton qualified Landon Jenkins, Kail Snair, Levi Pidgeon, Josh Carman and Ben Zinda in Division II.
The Lions will send Connor Norris, Andrew Strader, Hunter Dietrich and Kaiden Haines in Division II.
Qualifying for Malvern are Tyson Clear, Xavier Watson and Zach Babiczuk in Division III.
Carrollton and Minerva competed at the Division II district tournament at Steubenville. The Warriors placed fourth in the team standings with 108 points and Minerva fifth with 106.5 in the field of 39 teams.
Carrollton
Carrollton crowned one champion – Levi Pidgeon (126 lbs.) with a record of 38-10.
The junior began his fight to the top of the podium by pinning Caleb Monlux of Maysville in 2:33. He won by major decision (14-3) over Brice Perkins of Miami Trace. In the quarterfinals, Pidgeon faced Indian Valley's Leroy Steagall, winning 2-0. In the final, Pidgeon faced a familiar foe, Strader of Minerva. With no score going into second period, Pidgeon chose the bottom and scored two on a reversal which held up for the win.
Jenkins (106 lbs. 40-6) placed third after pinning Cash Owen of Sheridan in 2:53 in his opening match. He won 6-0 over Layton Vennon of Unioto, leading him to face Ethan Burkhart of New Lexington. Jenkins fell to the undefeated wrestler 2-0 and wrestled his way back through the consolation rounds, defeating Dawson Hudson of Logan Elm to earn a state berth. Jenkins again faced Vennon of Unioto, winning by major decision (9-1) to secure third place.
Snair (113 lbs. 41-7) placed fourth to earn his first trip to state. The junior pinned Noah Keen of Cambridge in 2:59 in the opening round before falling to Cannan Smith of Chillicothe. Snair headed to the consolation round where he pinned his three opponents, Dylan Moss of Indian Valley (2:49), Will Enochs, Miami Trace (38 seconds) and Tristian Eckles of East Liverpool (1:38) to wrestle for third. He faced Travis Bucklew of Vinton County, Snair falling 12-5.
Carman (137 lbs. 46-4) quickly pinned his first two opponents, Andrew Llewellyn of Athens, 49 seconds; and Clayton Myers of Cambridge in 34 seconds to face Coltyn Reedy of Sheridan in the semi-finals. Carman defeated Reedy 7-5 to advance to the championship round to face West Holmes' Louden Dixon. The score was tied 2-2 as time ran out in the third period. Going into a one-minute sudden victory round, Dixon was awarded a takedown for the win.
Zinda (190 lbs. 34-9) earned his first ticket to the state championship by pinning Kendall Rennicker of Claymont in 16 seconds in his opening match. The senior defeated Matt Griffin of Unioto 9-4 to face Drew Lincicome of Philo where he fell by pin. In the consolation round, Zinda pinned Michael Conkle of Bidwell River Valley in 1:28 to battle Logan Niceswanger for third place, which he won 6-1.
"The boys wrestled hard," said Carrollton Coach Joe McGee. "We left a few matches on the table throughout the tournament, but those are great learning experiences for us."
Looking forward to the state tournament, McGee said at this point, the goal is to fine tune their performance.
"We are going to show up, be us and see how it sorts out," he said.
Minerva
Norris (120 lbs. 34-8) pinned Corbin Winkle of Hillsboro in 1:32 and John Childs of Carrollton in 3:53 to advance to the championship round. He faced Robert Buchheit of Beaver Local , falling 4-0 to place second.
Strader (126 lbs. 36-7), defeated Aidan Hendricks of Indian Creek by 1:11 pin fall. He won by tech fall (16-0) over Dalton Rowland of McClain and pinned Jared Smith of John Glenn (1:59) to advance to the championship round. He fell to Pidgeon 2-0.
Dietrich (175 lbs. 36-8) pinned Bryce Perkins of Logan Elm in 3:20 in the opening round. He won by major decision over Stephen Lehr of Miami Trace and (10-2) and Sam Longhenry of New Lexington (14-5) to advance to the championship round. Dietrich faced Gabe Morgan of Beaver Local and fell 3-2.
Haines (190 lbs. 38-3) defeated Kane Curran of Beaver Local by major decision (15-4) and Michael Conkle of Bidwell River Valley 5-2. He pinned Logan Niceswanger of Morgan in 4:51 to wrestle for the championship. He faced Drew Lincicome of Philo (49-1) and fell 3-1.
Minerva Coach Chad Hilliard was proud of the performance of his team.
"All these guys showed a lot of class this weekend, and worked through adversity. Our parents showed a lot of class through adversity. Wins and losses happen. How we respond and how we act show what it means to be a Minerva Lion."
The Lions are looking forward to the state tournament.
"All four kids wrestled in a district final against matches we've already faced this year. It's hard to win matches you've seen over and over again. At the state tournament we're going to wrestle kids who don't know us as well as the local talent," said Hilliard.
Clear took a 41-4 record into the district meet, where he pinned Tigran Bdoyan of Columbus Academy in 1:47 in the first round. The sophomore posted a 13-4 major decision over Steven Crumbaker of West Muskingum in the second round and pinned Mavrick Smith of Huntington in 3:25 to earn a spot in the championship match.
Clear fell to Ayden King of Barnesville 8-2 in the title match to place second.
Watson (38-8) pinned Bobby Kapala of Ready in 1:15 in the first round and posted an 11-3 major decision over Robby Nixon of Barnesville in the second round. The Malvern senior earned a spot in the title match with an 11-7 decision of Neis VanGundy of Elgin, where he dropped a 2-0 decision to George Hulsey of Martins Ferry to place second.
Babiczuk (41-9) opened tournament action with a fall of Tyler Cline of North Union in 5:50 in his first-round match. The junior advanced by default win over Tyler Pasma of Elgin and faced Julien Griffith of Pleasant in the quarter finals, where he fell by pin in 35 seconds.
Babiczuk dropped to the consolation backet in the battle for third place where he dropped a 9-2 decision to Zane Hitchcock of Mechanicsburg.
""I am so incredibly proud of Xavier, Zach and Tyson," said Malvern Coach Robbie Wilson. "Together they tied the school record for most state qualifiers for a season and all three are in the top 10 for wins in a season in our school's history. As a team, we also finished the highest we ever have at districts with a 9th place finish out of 50 teams."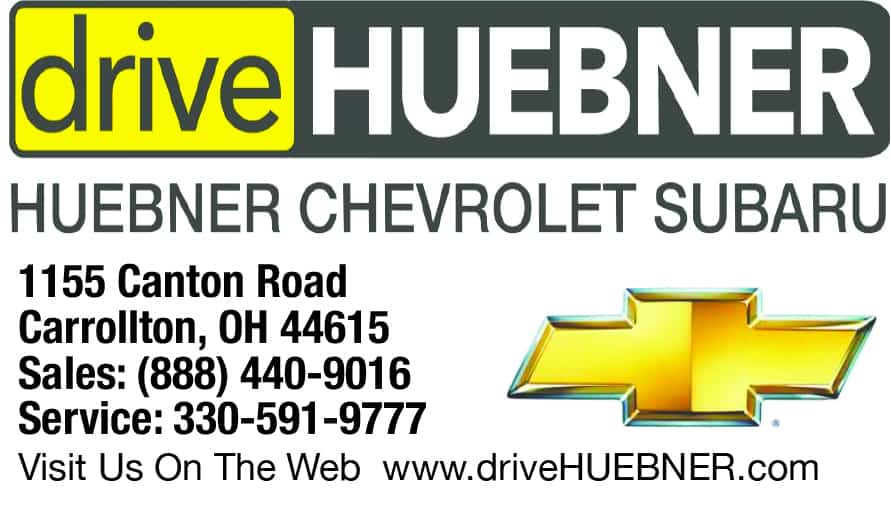 Sign up for our Newsletter
Interested in a monthl roundup of stories? Enter your email to be added to our mailing list.