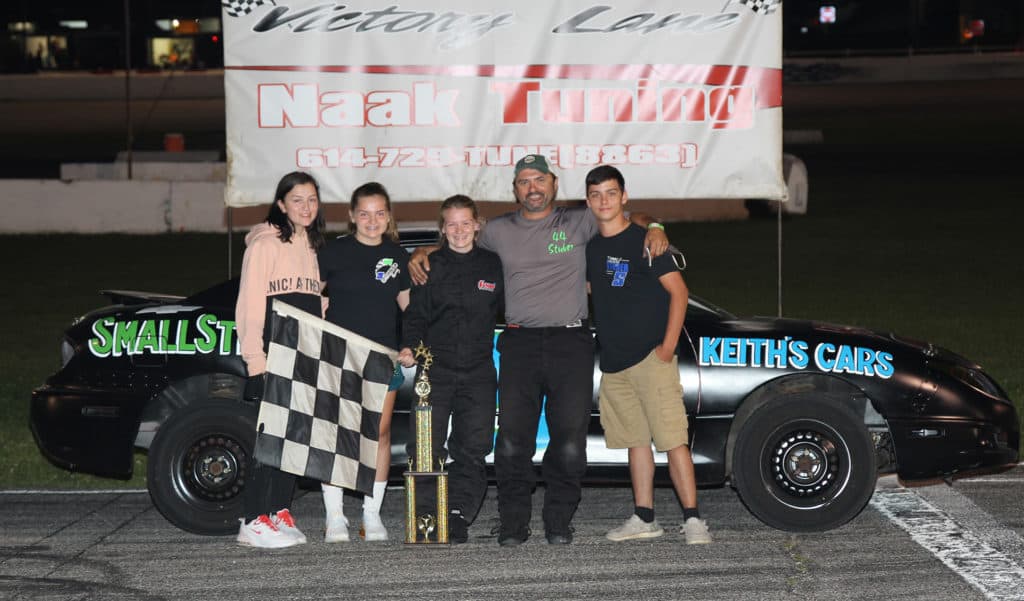 Tabby Stuber is first woman to win Midvale season points championship
By Leigh Ann Rutledge
Associate Editor
A Conotton Valley High School senior wrote her page in the history books Sept. 12 when she won her class at Midvale Speedway.
Tabby Stuber, 17, of Bowerston, won the Trophy Stock points championship and became the first female to win a championship in the speedway's 67-year history. Add in the fact, this is her first year she has competed.
Her family has history at the track. Her grandfather raced 40 years ago and she has spent time at the track with her dad, Mike, who began racing three years ago. Friends Dan Buckey and Bart Busby also race.
The quiet teen didn't realize winning was a big deal until a local television called for an interview. She heard before the race, that if she would win, she may be the first female in Midvale Speedway history.
"I started the race in first. If I would have placed last and the driver in second would have won, he would have beat me by one point," Stuber explained. After a caution, they started side-by-side and I got out front. I thought they had waved the half-way flag, but it was a caution. I just wanted the race to be over."
What Stuber didn't know was during the race, a car left the track which meant no matter what she couldn't finish in last place. She had the championship sewed up before the race concluded.
Stuber was in first going into the championship race from the points she accumulated from heat and feature placings.
"I don't qualify the best, but I have never finished last in a heat race," she added saying, "and I have never finished below second in a feature event.
The beginning
How did the whirlwind year begin for Stuber?
"My dad asked sometimes if I would get in his car and do 'hot laps' for him," Stuber said. "I liked it so much he asked me if I wanted to race."
She competes in the Trophy Stock class which was created this year for beginning drivers. She drives the #5 Pontiac Sunfire, competing against four to six drivers in each race. They compete on the two inside smaller tracks and average 50-55 mph. Stuber also competed in the compact class in the Midwest series, driving her dad's car. She won her heat race which was her first race win.
"There are no mirrors on the cars so I can't see who is behind me," Stuber explained, describing the difference between running trophy stock and compact classes. "The compact class has more cars, older drivers (more experienced) and a faster pace. I was so nervous."
Trophy Stock and Compact class cars have manual transmissions. "I had to be able to drive a stick shift before I was able to get my driver's license," Stuber noted.
"She pulls her own car with the trailer and trailer to the track" Mike added.
Tabby has her own fire suit, shoes, helmet and gloves and has a racing monitor. The monitor allows track officials to warn drivers of a crash or tell them how to line up on restarts.
Getting ready to go on the track for her first (Trophy Stock series) race, Stuber said she was so nervous and shaky.
"My dad told me it was going to be ok. He said, 'You got this. Just drive.'," Stuber said. His support helped. She finished third in her heat and second in the feature.
Fortunately, all her nerves on the track are not bad. One incident involved a quick move and nerves, not nervous but "nerves of steel". When you win a feature, you have to start in the back in the race the following week. Stuber won and was the last car.
"I saw a hole and took it. I went from sixth to second in one lap," she stated, smiling brightly. "It was the coolest thing I've done there."
Team Stuber
Next year Tabby will carry the #5 with her and move up to the compact class. She has twin sisters who are 15 years old. Daphne wants to race and may take over the Sunfire in the Trophy Class. Chloe doesn't want to drive, but she knows what is what at the race track.
At Conotton Valley, Tabby will be a four-year letterman in volleyball and softball. She has three letters in cheerleading and basketball.
A member of the National Honor Society, she is in her third year of College Credit Plus (CCP) study through Kent State University. She plans to attend Belmont College to become a nurse anesthetist.
Asked about her parents, she said her mom and grandparents are in the stands watching. If her mom gets nervous she doesn't show it, she added.
As for dad, he said, " I thought going into this if she can just win one race it would be good. She blew my expectations out of the water."
She plans to continue racing.
"I love racing!" she said. "It's so much fun."
"After she won the championship, I overheard someone say, 'She doesn't want to get out of the car and go home.' She wants this night to keep going," added Mike.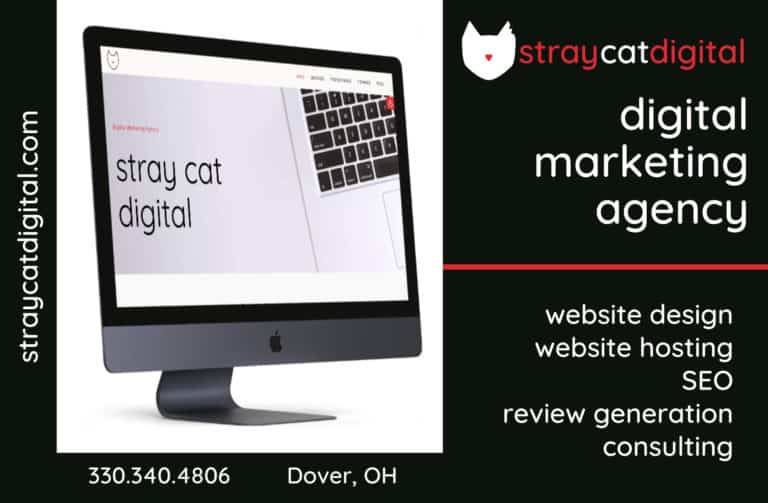 Sign up for our Newsletter
Interested in a monthl roundup of stories? Enter your email to be added to our mailing list.