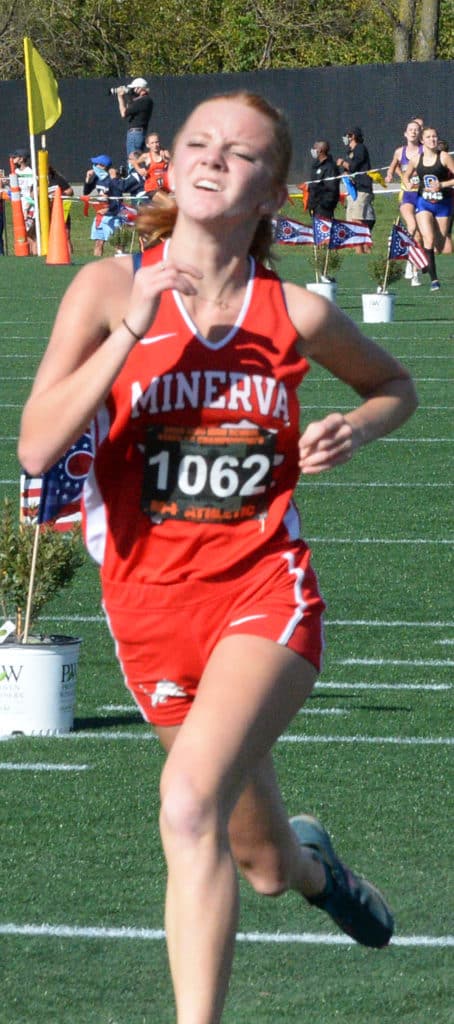 By Carol McIntire
Editor
Minerva climbed five rungs up the ladder in the team standings at the Ohio High School Athletic Association's state cross country meet Saturday near Columbus.
The Lady Lions finished 14th in the Division II girls race in 2019. They placed sixth Saturday at Fortress Obetz, the new site of the state's top meet, led by a 38th place finish by sophomore Hera Hoffee.
"It was really cool to make it to state this year," Hoffee said after turning in a time of 19:44.8. "Last year I qualified with the team, but not as an individual. This year, I qualified as an individual. "It was very competitive and I was really nervous. I'm sad it is the last race."
Aubrey Dunham, one of only two seniors on the young team, was the second Lion to cross the finish line in 60th place with a time of 20:07.1.
"It was really, really different from the last course in the way it was set up and the weather. Normally it's really cold," Aubrey said. "Everybody really put their all out there and we finished in the top 10. I am really proud of my team, especially since we were 14th last year."
She became emotional as she talked about it being the last race of her high school career.
"I was really devastated when we got 14th last year. I told the team I really wanted to get top 10 this year and they really put it all out there. I am really proud of them."
Recapping her final race, she admitted to having pre-race jitters.
"Once we started, I felt the adrenaline and kept going. The second mile I felt tired, but mentally, I knew I had to keep going. I finished well and thought it was good."
Sophomore Caitlyn Hopple was the third Lion to cross the finish line, finishing 91st in a time of 20:36.6. She was followed by Sophomore Tori Dunham, 95th in 20:39.5, junior Jenna Cassidy, 96th (20:40.3); junior Madeline Crissman 114th (21:10.6) and senior Julie White 143rd (22:08.6).
Lion junior Connor Shingleton qualified for the state meet for the first time as an individual after just missing the cut last season.
"I was super excited to make it this year," he said following the race. "Last year was very disappointing so I just wanted to work hard and make sure I was top 28 this year to qualify."
Shingleton crossed the line 61st Saturday in a field of 168 Division II runners.
"It was tough out there. There was a lot of fast people and there were always people around me," he said recalling the race. "I was trying to stick with them and move up. Then I hit a little lull and fell back a little, but other than that it was pretty good."
Coach Olivia Scott was elated with the performance of her runners.
"We are so proud of Connor," Scott said following the race. "This was his first solo trip to the state meet. He went out and attacked the course with enthusiasm. I thought he ran a smart race. He will be back here next year hopefully with his teammates and vying for a spot on the podium."
It was a great end to a stressful season!" she said. "Wondering each week if someone would become ill or be put in quarantine was very nerve wracking! I feel very blessed we were able to get a season, so to make it all the way to the state meet was a double blessing. The new state course, Obetz, is beautiful and the atmosphere is a step above National Trail Raceway. It was a little on the hot side for a November State meet so times were not as fast as we would have liked them. My goal was a top 10 finish so I am very pleased with the girls performance."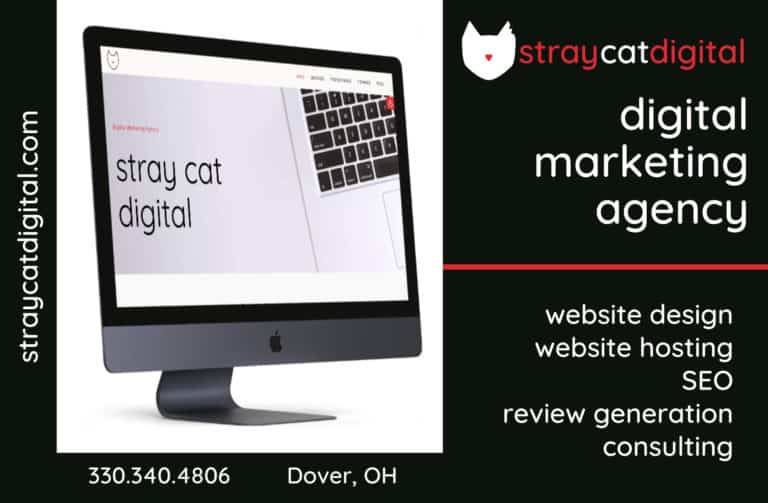 Sign up for our Newsletter
Interested in a monthl roundup of stories? Enter your email to be added to our mailing list.