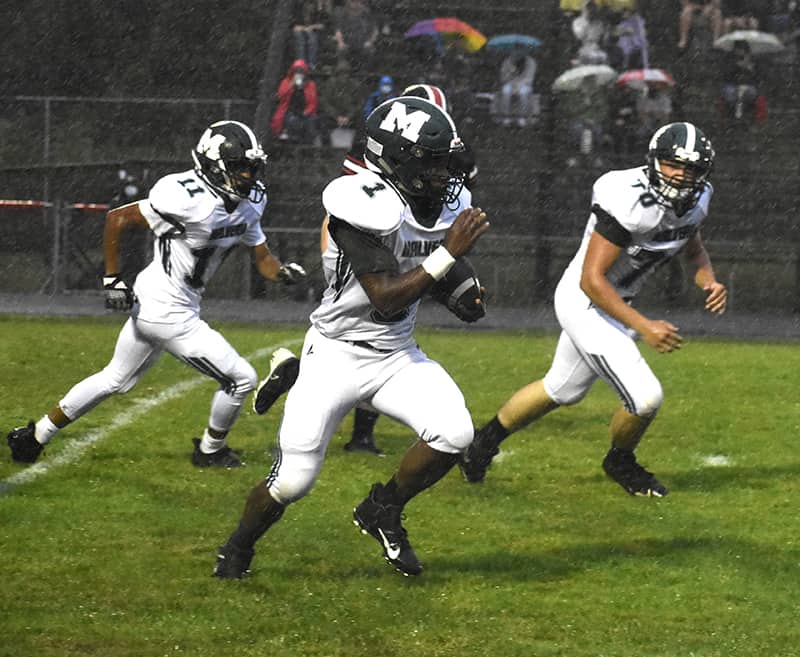 By Leigh Ann Rutledge
CCM Reporter
"The conditions were not ideal, but after these past five months, we would have played in just about anything," Malvern football coach Matt Chiurco stated Friday after his Hornets opened the 2020 football season with a 15-0 win.
The Hornets traveled to Tusky Valley to face the Trojans in a COVID-19 adjusted football schedule. Lightning delayed the kickoff and rain fell from the sky during the entire contest.
The Trojans won the coin toss, deferring to the second half. Malvern received the opening kick and began to drive down the field. With a third-and-three on the Trojan 39-yard line, an offsides penalty against the Trojans gave the Hornets a first down. A fumble on the Trojan 21-yard line recovered by the Hornets brought up a third and long play. With 6:18 left in the first quarter, Hornet quarterback Derk Hutchison capped off the drive with a 16-yd. touchdown pass to Noah Ball. The extra point by Tristan Phillips was good, giving the Hornets a 7-0 lead.
The Hornets added another score early in the second period when Hutchison connected with Trent Severs for a 29-yard touchdown at the 11:37 mark. The extra point was no good. The Hornets 13-0 lead held until the fourth quarter when an intentional grounding penalty in the end zone on the Trojans gave the Hornets a two-point safety.
The Hornets gained 18 first downs, more than double the seven earned by the hosts. The visitors rushed for 162 yards on 39 carries, compared to 57 yards on 31 attempts for Tusky Valley.
Hutchison had 101 passing yards, while Trojan quarterback Tanner Phillips had 52 yards.
"When Adam went out in the second quarter, it obviously changed some things for us offensively, but we wanted the ball in Derk's hands as much as possible and once again he didn't disappoint," said Chiurco. Moser had 43 yds. before leaving the game with an injury.
Junior Johnny Walker had three tackles, two for loss. He landed three sacks. Bryson White, an Inter Valley Conference (IVC) 2nd team pick last year, was credited with 11 tackles, one for loss.
He also recovered a fumble.
"Since we started practice here in August, we've really emphasized our defense. We want to be an aggressive, attacking defense," Chiurco stated. "Tusky Valley never threatened. Bryson and Johnny were outstanding defensively. Noah (Ball) had huge punts in the second half for us, pinning them back multiple times."
Hutchison added six tackles, two for loss. He also ran for 114 yards on 27 attempts.
"We took a business-like approach tonight. I loved our demeanor, attitude and effort. It was outstanding," Chiurco said. "The only negative to the night was penalties. Those are self-inflicted and we have to be more disciplined in that aspect, players and coaches."
The Hornets had nine penalties for 80 yds. Tusky Valley had four penalties for 45 yds.
"We're happy to be 1-0, but certainly not at all satisfied," added Chiurco. "We've set some big goals for ourselves and we're going to have a great week of practice and put all of our efforts in towards Strasburg."
The Hornets host the Tigers Sept. 4. Action begins at 7 p.m.
MHS 7 6 0 2 – 15
TVHS 0 0 0 0 – 0
MHS- Ball 16-yd. TD from Hutchison (Phillips kick) ,6:18.
MHS – Severs 29-yd. TD from Hutchison (kick failed),11:43.
MHS- Safety.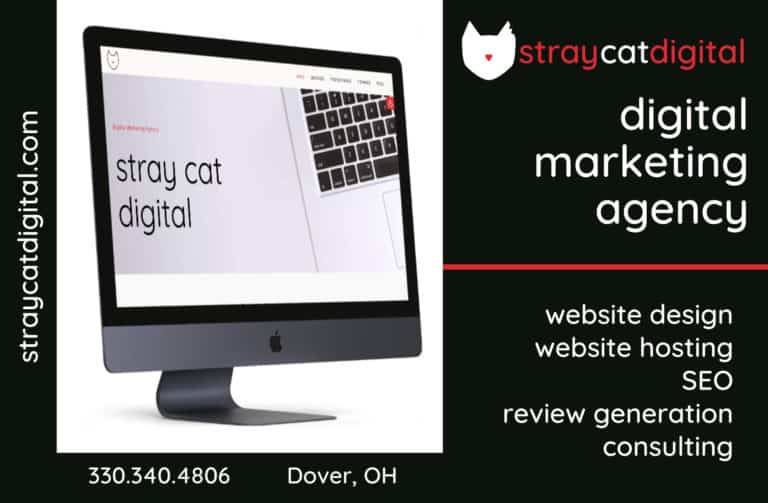 Sign up for our Newsletter
Interested in a monthl roundup of stories? Enter your email to be added to our mailing list.