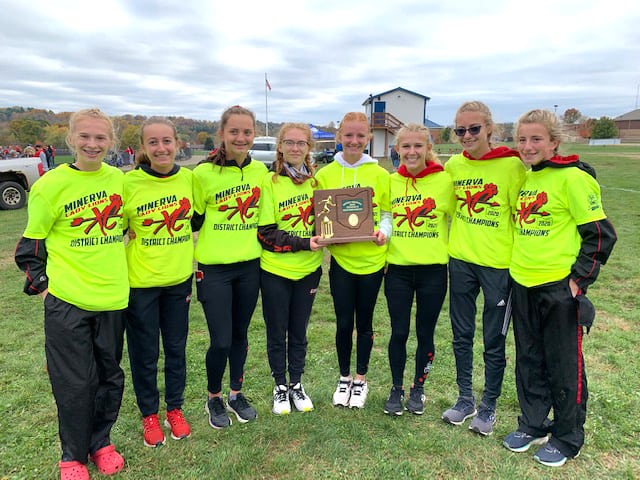 Minerva, Carrollton sending teams, Malvern individuals qualify
Runners from Minerva, Carrollton and Malvern are headed to the regional cross country meet this Saturday at Pickerington North High School.
Minerva's boys and girls and Carrollton's girls teams qualified as teams and Malvern runners Lanie Bower and Landyn Huffman qualified as individuals along with two Minerva runners.
The Lions won the Division II East District championship Oct. 24 at Cambridge for the second consecutive year. The team scored 28 points, followed by Sandy Valley, 122, Tusky Valley 127 and Carrollton 138 to round out the top four. The top eight teams and individuals who placed in the top 32 runners qualified.
Carrollton and Minerva dominated the top 10 finishers.
Minerva captured six of the slots and Carrollton two of them.
Lion Hera Hoffee won the race with a time of 19:16.69, followed by Aubrey Dunham 4th (19:44.01); Jenna Cassidy 6th (20:02.96); Tori Dunham 8th (20:15.97); Caitlyn Hopple 9th (20:26.80) and Madeline Crissman, 10th. Hopple and Crissman qualified as individuals.
Warrior Camryn Barker crossed the line third in 19:33.46 and Hillari Baker was 7th in 20:03.
Other Warriors earning points included: Tessa Bodo 31st (22:21.93); Maddie Burgett 44th (23:01.71); and Kyra Bodo 54th (23:24.19). Kayla Lewis and Joline Greaves also participated. Keira Taggart qualified in the open race.
"I couldn't be any more excited about our performance at Cambridge," said Minerva Coach Olivia Scott. "To have my top six runners in the top 10 of a district race and all seven of my runners qualify individually is a cross county coach's dream! I can't wait to see what we can do at regionals!"
Girls Division III
Bower placed 15th in the Division III girls race (22:03.41) to qualify. Individuals who placed in the top 20 qualified to advance. The Hornets' top runner all season, Paige Peshina , did not participate due to medical reasons.
As a team the Hornets placed ninth with 188 points. Caldwell won the team title with 57 points.
Other Hornets earning scores included: Emma Debo 36th (23:50.57: Raine Coblentz 53rd (26:09.05); MacKenzi Riley 58th (27:00.7) and Emily Nevi 68th )31:12.21).
Boys races
Minerva placed fifth in the Division II boys race to qualify. Riverview won the race with 36 points. Carrollton placed 11th with 257.
The top six teams and individuals in the top 24 qualified to the regional meet.
Connor Shingleton led the Lion's effort, placing ninth in 17:19.03. Others earning points included: Ben Brady 19th (17:42.43); Brandon Davis 22nd (17:48.07); Owen Grubb 49 (18:48.80: and Mason Steele 52nd (18:59). Connor Norris (67th) and Jacob Wollman (73rd) also participated.
"Our boys team was ranked 6th going in. We ended up 5th with some big performances from senior Ben Brady and sophomore Brandon Davis. Ben has a great senior mind set that he didn't want this to be his last race and ended up with a personal record time. This was Brandon's best race of the season. Freshman Mason Steele also stepped up into our number 5 runner spot. Connor Shingleton went out a little hard and that hurt him later in the race. It was a learning lesson and he knows what he has to do for next week."
Carrollton senior Hayden Burgett missed qualifying by three places, finishing 27th in 17:58.06. Other Warriors scoring included: Seth Wiley 46th (18:41.38); Andrew Lane (19:03.72); Thomas Rutledge 85th (20:06.79) and Bryce Marshall 92nd (20:22.81). Carter Higgins (99th) and Kobe Green (112th) also participated.
Division III
Huffman earned a spot at the regional meet by placing 10th in the Division III race in 18:10.88. The top three teams and individuals in the top 12 advanced.
Garaway won the team title with 55 points. Malvern placed sixth with 159.
Others scoring for Malvern included: TJ Proctor 22nd (18:58.79); Seth Kandel 44th (20:01.66); Jon Robertson 52nd (20:29.85); and Ben Moser 58th (20:51.68).
Conotton Valley runners participated as individuals. Kadyn Webber placed 18th (18:38.27); Evan Siedel 23rd (19:08.21) and Levi Kuhn 70th (22.08.76).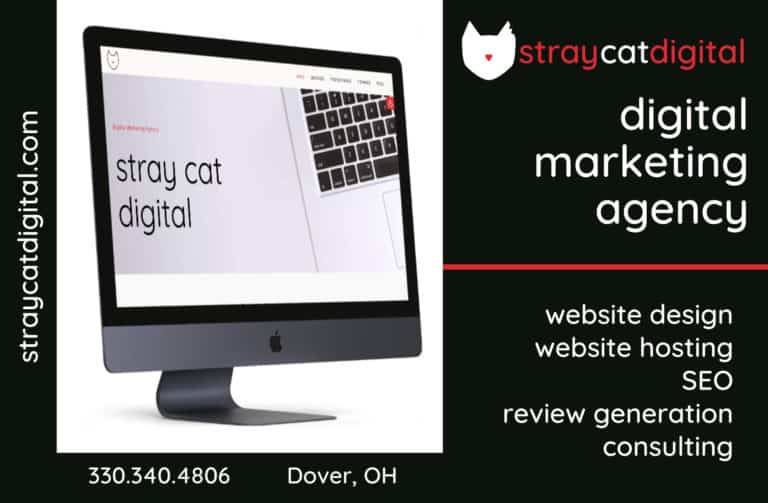 Ad goes here.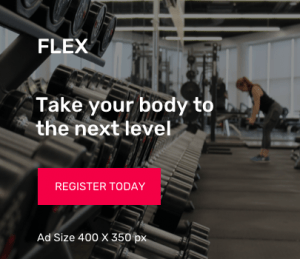 Sign up for our Newsletter
Interested in a monthl roundup of stories? Enter your email to be added to our mailing list.