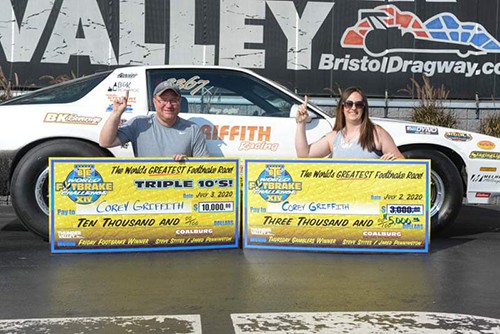 Corey Griffith writes his page in family history book with back-to-back wins at World Footbrake Challenge
By Leigh Ann Rutledge
Associate Editor
Corey Griffith was born to drag race.
Griffith grew up in the Summitville-Salineville area with his younger sisters, identical twins Casey and Carissa. The trio is the third generation of Griffiths to strap in the seat of a drag car on the starting line waiting for their light.
The trio's grandfather, Jim Griffith, and father, Bob Griffith, raced at Magnolia Drag Strip (now Jim and Tad's) and Quaker City Raceway.
Over the 4th of July weekend, Corey added his page in the family history book, winning back-to-back days at the World Footbrake Challenge in Bristol, TN. Racing officials think this feat is the first time anyone has accomplished back-to-back day wins at that event. Corey and wife, Chrissy, decided to travel to Tennessee because due to the COVID-19 pandemic, there were not many racing options in the area and they have set a goal to visit all 50 states. For Corey, racing at Bristol was on his bucket list.
Family History
When Corey gets in the seat of his drag car, he only runs an eighth or quarter mile, but over the years, those have added up to a lot of miles.
Griffith racing history began with the trio's (Corey, Carissa and Casey) grandfather, Jim, who was a multi-time national record holder and event champion. Jim was an NHRA (National Hot Rod Association) Modified champion with his 1957 Chevy. He raced with Paul Bergert, also of Salineville.
The trio's father, Bob, was the 1984 NHRA Division III Stock Eliminator Champion. He drove a 1969 Camaro.
Corey made his first appearance (in a car) on the track in 1997 at nine years old at Quaker City Dragway. He drove a junior dragster in the class for ages 8-16. Junior dragsters and half the size of the regular dragsters and sport a lawnmower engine.
What does he remember from his first trip down the track? Not whether he won or lost or how fast he was going, "I remember talking to Dad and Becki and Kevin (his cousins who own B&K Beverage in Salineville and are a sponsor for him) telling them I want to do it again!"
"I was always at the track," Corey stated. "My mom was pregnant with me when she attended with my dad. I was there before I could actually see. There was zero percent chance I would be interested in anything other than racing."
He raced in junior dragster for seven years, winning the 2002 & 2003 championships at Quaker City. His dragster averaged 71 mph in nine seconds in an eighth mile.
Modified Class
In 2002, knowing he would soon age out of junior dragster, Corey's dad purchased a 1986 Camaro, saving it from the junk yard. The previous owner had started turning it into a drag car and part of the interior had been removed. He and helpers worked on the car over a five-year period rebuilding it, installing a roll cage, painting, etc. They were able to do all the engine work, but not the automatic transmission work.
During this time, Corey raced his dad's 1985 Camaro. Changing from junior dragster to a drag car was different, he explained. "It was like learning how to drive all over again. You had to learn how to shift gears."
He was a quick learner, winning his first race in the modified class July 4th weekend, 2004, at Quaker. (The modified class is the same class name that his grandfather raced in, with different rules.)
In 2007, after Corey had graduated from Southern Local High School and was attending Youngstown State University studying Civil Engineering, his Camaro made its first appearance on the track. He raced only at Quaker until 2012 winning his share of regular events.
In 2012, he began racing at Magnolia on Sundays. Racing both tracks continued for a period of time. He was the track champion in 2016 at Magnolia.
"Life progressed. I got a good job and got married," Corey said. "Chrissy enjoys traveling, but she doesn't drive. She is my pit person and does all the scrapbooking."
He won races in 2017 and placed second in the No Box class at Magnolia (no electronic aides) and second in the modified class at Quaker City. In 2019, he won the modified class at Quaker City.
"It's a passion, like a disease. It's all I've ever known," explained Corey. "Of all the things I've tried, drag racing by far has been the most rewarding."
The Girls
Both Casey and Carissa began racing at age nine in the junior dragster class. Carissa won a national event in 2002 at Quaker City.
In 2010, they moved to the modified class and shared their dad's 1985 Camaro (the same one Corey started the class driving) until they were able to obtain their own cars.
Casey has a 1995 Camaro. She won the Halloween Classic at Norwalk in 2015. The week-long event draws between 1,000-1,200 cars.
Carissa has a 1969 Camaro. Both girls can do the basics on the cars, such as check the tires and fuel and change the oil. Major engine work is done by Corey and Bob, with machine work by Frank Kolbl of Canton.
2020
With 2020 came the pandemic and unable to race locally, Corey and Chrissy, headed out on the road. They headed to Virginia Motorsports Park in March. He was competing in the Footbrake Class where 250 cars were competing. Corey's Camaro was one of 40 cars still in the competition, when it was called for rain.
In May they traveled to Muncie, IN, where he was the runner-up in the no box class. Griffith said the classes may have different names, but the principle is similar to Quaker, etc.
Ohio racing opened and Corey won the season opener in the modified class points race at Quaker in early June.
The World Footbrake Challenge featured racers from across the United States. Corey was competing against 550 racers. Thursday evening, he won the Gambler's Race and Friday he won his event. He competed in 10 rounds in 13 hours.
"You get to see a lot of different cars and technology at the races, along with some great sites," Corey said about traveling to races.
After they returned home from Bristol, the couple headed to their home track where Corey was the runner-up in the Quaker City Big Bucks Nationals. He competed against 100 cars in the no box class.
His dial in for his Camaro is 6.80 in the eighth mile at around 101 mph, and 10.75 in the quarter mile at 125 mph.
Corey has been fortunate and has not been in any crashes. He is very thankful for those who have helped him along the way.
"I thank my mom and dad, Bob Smalley, Kevin and Becki at B&K, Bert's Dyno, Russell Performance, Biddell Performance Transmissions, Quick Draw Convertors, Wired 2 Win, and Frank Kolbl" explained Corey. "I owe them my career. I would never have been fortunate enough to experience any of this without them. It's been a great life."
Corey and Chrissy reside in Alliance. Corey plans to continue to race "until he no longer enjoys it." His grandfather raced until his death at age 74.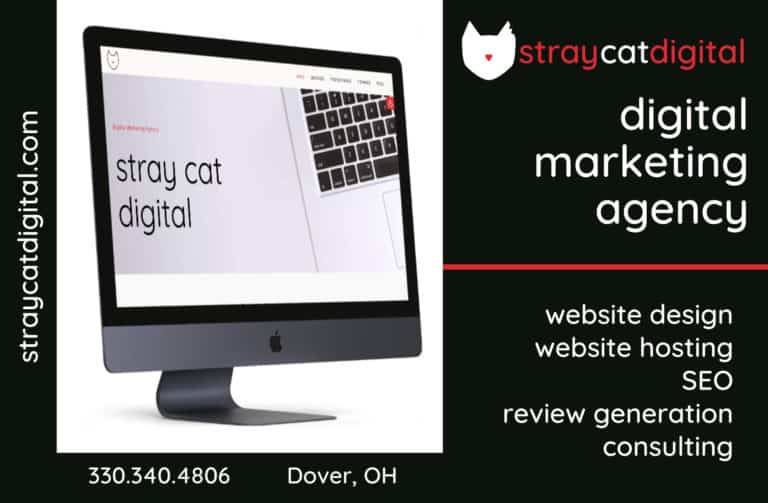 Sign up for our Newsletter
Interested in a monthl roundup of stories? Enter your email to be added to our mailing list.