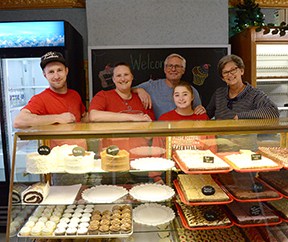 For the past 70 years, Betty Kaye Bakery has been serving up some of the sweetest treats you'll find anywhere.
If you don't believe it, just ask their customers who come from near and far for one of the famous "Betty Kaye brownies" that have been a staple at the 72 W. Main St., business since John and Betty Kansala purchased it in 1950.
"The business was named Betty Kaye after Betty Kansala, but originally it was known as Madison's Bakery and dates back to the 1920s or 1930s," explained William "Bill" Abrahims Jr., who owns the business today along with his wife Doreen. "The building itself dates back to pre-Civil War days when it was home to a millinery (hat shop)."
Pictures that hang in the bakery showroom validate the claims and add to the charm and décor of the bakery, where you'll find showcases filled with a variety of breads, cookies, cakes, cupcakes, donuts, cream sticks, pies, flip overs and, of course, those mouth-watering brownies.
"Some of our recipes have been the same for over 70 years," said Bill Jr. "Everything here is made by hand, using old-world recipes. We even make our pie filling from scratch," he said as he mixed filling for cherry pies in a copper kettle with his hands. "This is how you know it's good."
Bill pointed out a three-ring notebook, covered in flour and fingerprints, on the table carefully tucked between two tubs of ingredients. "
"That's what most people would call a recipe book," he said. "Everything's in there, except we don't refer to them as recipes – they are formulas."

History lessons
The first month John and Betty owned the bakery, a youngster named William "Bill" Abrahims, Sr. joined the staff. It was 1950 and he was just 15 years old.
John, whose family immigrated to the United States from Europe, served an apprenticeship as a baker in Steubenville before purchasing the bakery. There he learned the art of baking, which was passed down to Bill Sr.
John and Betty filled a need for Bill Sr., according to Bill Jr.
"John was like a surrogate father to my dad and Betty was like the grandmother everyone loved," said Bill Jr.
Bill Sr. became a master baker and used his skills in the military, returning to Carrollton where he worked long hours alongside John perfecting the craft of baking.
During his employment at the bakery with the Kansalas, Bill Sr. and his wife, Donna, had two sons, Bill Jr. and John. It was only natural that they would follow in their father's footsteps.
Bill Jr, the older of the two, joined the business at the age of 13. He would get up early with dad, work in the bakery and then attend classes at Carrollton Schools. John followed the same path.
In 1977, the year Bill Jr. graduated from high school, Bill Sr. purchased the bakery from Betty.
It was the same year Bill Jr. married his high school sweetheart, Doreen Westfall.
Bill and Doreen's daughters, Natalie and Jamie, and John's son, Tyler, also joined the family business. Natalie moved to Pittsburgh. Jamie (Burkhart) and Tyler, a chef who is making the switch to a baker, are learning the art of baking from Bill Jr. today. Jamie's daughter, Abby, spends time in the retail store while Jamie is responsible for decorating in the "bakery".
Doreen, who retired from Carrollton Schools as a teacher, assists in the retail business on Friday and weekends and is responsible for the variety of decorating gracing the front window during different seasons.

A family tradition
"Dad taught John and I the art, science and chemistry of baking. Everything in here is a dance," said Bill Jr. with a sweeping motion of his arm around the bakery. "You have to know the difference in temperature and humidity, how temperature affects flour, etc. That set of scales over there is one of our most important pieces of equipment."
Another important piece of equipment in the bakery is the large oven, which dates back to 1939, which is verified by the date on the front side.
It was recently rebuilt and updated to allow the crew to better monitor temperatures, but both Bill and Tyler said patience is the secret to baking.
"You can't rush things," noted Tyler, who has spent the last three years working alongside Bill Jr. "There's a lot to learn and I learn something new every day. I'll be learning until the day Uncle Bill retires."
Bill admits he hopes Jamie and Tyler take over the business "sooner than later."
"Retirement is looking pretty good," he admitted, a smile crossing his face. "It's time for the younger generation to take over."
Bill Jr., Jamie and Tyler continue to use the old-world recipes the bakery foundation was built on, but have expanded the selection and "changed things up."
Bill recalled that when he was in school, they made only one kind of brownie: walnut. Today there are 33 variations of that original.
"I came up with the idea we have a Brownie Palooza weekend," Bill said as he leaned on the large table top where thousands of treats have been created over the years. "They planned it for the first weekend in August and shared it on Facebook."
"Not knowing what the response would be the first year, we made a couple thousand brownies," Jamie noted.
"John told us, 'I hope you're hungry'," Bill added.
"We had about 8,000 shares on Facebook and sold out on Friday. We didn't even make it to Saturday!" John exclaimed, adding "that put us on the map!"

Ham and sweet treats!
The Abrahims family has expanded the original product line over the years.
"We would take an existing product and spin it 50 different ways," Bill said, laughing. "I had a recipe for a cheesecake for about 25 years, just waiting for the time to be right to make it. The time finally came and we made it. It was the best I'd ever tasted."
"In any week, we make about 100 different items," Tyler added to the conversation. "We pick one and do it as a Facebook feature," Jamie noted, adding, "Facebook has brought in a new customer base."
Holiday hams have been on the order list as long as long as Betty Kaye has existed and are immensely popular.
"When the oil and gas boom was going on, we filled three pickup trucks with them to Louisiana, Oklahoma, Mississippi and Alabama," Bill noted.
Baking begins early in the morning, about 2 a.m., and continues until the showcases are filled. On a typical Tuesday 10 trays of brownies are baked, or about 750 individual brownies. That order is repeated throughout the week. During the holidays, that amount doubles to 20 trays or about 1,500 brownies a day.
"Dad always prided himself on getting orders out on time during the holidays," Bill said. "He would come in early during the holidays and tell us he didn't know how we were going to get all the work done. At the end of the day, we got it all done."
Bill worked alongside his sons until his death in 2017. John worked through the holiday season in 2019. He died in early 2020.
The Betty Kaye team includes two other longtime employees – Brenda Strait, who is nearing her 18th year of employment in the retail store, and Sandy Garner, who has been with the business over 22 years.

The future
Bill says true baking is becoming a lost art in today's society, with people so busy with work and family, they use prepackaged products rather than baking from scratch.
"It's a niche business," he noted. "My fear is small, main street business will cease to exist as the older, faithful customer base that believes in shopping local passes on. It's up the younger generation to figure out how to create a new customer base, which is what Jamie and Tyler will be doing."
While Bill Jr. enjoys hearing from longtime customers and sharing the history of those who worked at the bakery, Jamie and Tyler are excited about the future and what it holds.
"I like to hear from the people who left home and the community for school and careers and are glad to see the bakery remains the same when they come back home," said Bill Jr. "It's great to hear their comments; things like: 'the bakery looks and smells the same;' 'it's home'. To me, that's the greatest compliment"
Orders can be placed by calling 330-627-2665. Of course, walk-in customers are always welcome.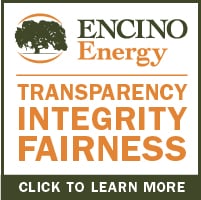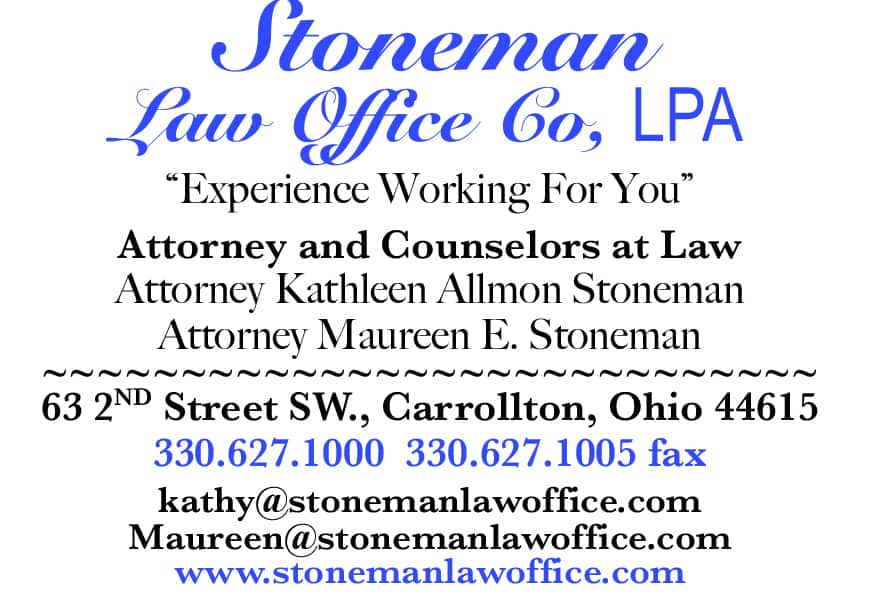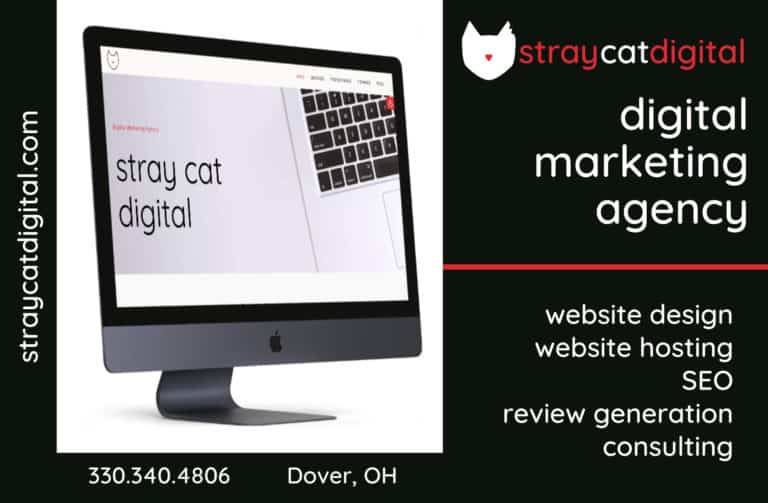 Sign up for our Newsletter
Interested in a monthl roundup of stories? Enter your email to be added to our mailing list.